Personality: Mitchell Haddon
Spotlight on Richmond SPCA's outgoing board chairman
8/17/2023, 6 p.m.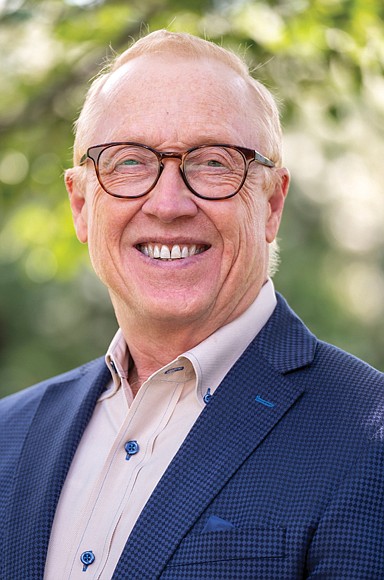 About a decade ago, Mitchell Haddon met Robin Robertson Starr, who then was CEO of the Richmond SPCA. Because of Mr. Haddon's experience in construction, Ms. Starr had questions about a veterinary hospital that the nonprofit SPCA was considering building.
Their conversation soon segued into the mission of SPCA and its journey.
"Listening to Robin, it was incredible to hear her steadfast conviction, her courage, her drive and intensity to support animals," Mr. Haddon recalled in a recent phone call. "Hearing the work that had been done, the work for the future and the no-kill concept ... I don't know if contagious is the right work, but it felt like I needed to do this."
He and his wife of 10 years, Sabine, quickly decided it was a natural fit. They became financial donors and began supporting some of the nonprofit's events such as its annual Fur Ball and Dog Jog. In 2016, Mr. Haddon joined SPCA' s board. His two-year term as board president ends next month.
The Richmond SPCA, or Society for the Prevention of Cruelty to Animals, was established as a private, local nonprofit in 1891. In 2002, the organization adopted a no-kill policy making it the oldest full-service, no-kill humane society in Central Virginia.
"It's easy to say no-kill," Mr. Haddon said. "It's very, very hard to make it happen day in and day out."
Over the last two decades, the Richmond SPCA has made changes within the organization and within the wider community to support its commitment to ending the killing of healthy and treatable dogs and cats and promote its mission that every life is precious. Each year it helps save and find homes for about 4,000 homeless dogs, cats, kittens and puppies.
Its Susan M. Markel Veterinary Hospital also makes a big difference in the community. By making veterinary care more affordable for low-income households, it can prevent relinquishments and allow more people to become pet owners. Last year, the hospital served more than 10,400 patients and 5,000 clients — most of whom qualified based upon household income.
All of which fits in with the passion the Haddons share for animals, especially their four horses. Both have competed in show jumping, and while Mr. Haddon retired from the sport several years ago, he says he "lives vicariously" through his wife's continued competitions.
Four years ago the couple added Royal, a 5-year-old yellow labrador they adopted, to their Glen Allen home.
"She has been an incredible companion for Sabine and me," Mr. Haddon says of the rewards of adopting, adding there are other ways to make a difference by being a donor, volunteer or attending an SPCA event or program.
"Whether it's time, talent or treasures, the Richmond SPCA is a place where anyone can volunteer and do something to help," Mr. Haddon said. "It has given me an opportunity to make a difference. I will forever support this organization."
Meet the board chairman of Richmond SPCA who is passionate about animals and is this week's Personality, Mitch Haddon.
Volunteer position: Board chairman, Richmond SPCA.
Occupation: President and CEO of ColonialWebb Contractors.
Date and place of birth: April 24 in Orlando, Fla.
Where I live now: Glen Allen.
Education: J. Sargeant Reynolds Community College, associate degree in HVAC.
Family: Wife, Sabine, one yellow lab and four horses.
Richmond SPCA is: The oldest full-service, no-kill humane society in Central Virginia.
SPCA is the acronym for: Society for the Prevention of Cruelty to Animals. The Rich- mond SPCA is a private, local nonprofit established in 1891, and it is not affiliated with any other organization with SPCA in its name.
Mission: To practice and promote the principle that every life is precious.
Brief history: During the earliest years of the Richmond SPCA, there was not yet a concept of sheltering homeless companion animals. Initially, its work centered around advocacy for greater consciousness of animals and their suffering, and those efforts led directly to getting the General Assembly to adopt the first statute making cruelty to animals a crime in 1894.
The force behind the Richmond SPCA's first shelter was novelist Ellen Glasgow, who was board president from 1924 until her death in1945. Ms. Glasgow's generosity in leaving the majority of her estate and all the rights to her great works of literature to the Richmond SPCA gave the organization fiscal stability for decades to come.
Twenty years ago, we moved to our current home at 2519 Hermitage Road. We've since expanded to add the full-service, low-cost Susan M. Markel Veterinary Hospital, and opened a satellite spay and neuter clinic in Mechanicsville.
Founder: First in 1883 and again in 1891, a woman named Nellie Nalle Palmer was concerned about humane issues and gathered a group of Richmonders to meet in her home with the ambition of forming a local society for the protection of animals. While the first gathering did not produce enough support, she did not give up, and in 1891 the Richmond Society for the Prevention of Cruelty to Animals was formed.
What does it mean to be a no-kill humane society: Our commitment to the no-kill philosophy is a pledge to save the life of every healthy and treatably sick or injured homeless animal in our care. It means the only time we euthanize a pet is under the same circumstances that a responsible pet guardian would euthanize his or her own pet.
When did the Richmond SPCA adopt this policy and why: We became no-kill in 2002 after a strategic and visionary process led by then CEO Robin Roberson Starr and Board President Emerson Hughes. They believed strongly that taking the lives of homeless animals to control their num- bers, which was the commonly accepted practice at the time, was not morally acceptable. Committing ourselves to the no-kill philosophy and operating model required systemic change both at the Richmond SPCA and within the larger community to provide the programs and services that were essential to ending the killing of healthy and treatable dogs and cats.
Why this organization is meaningful to me: I have always had an emotional con- nection to and passion for helping animals. As they cannot speak for themselves, I feel we are responsible for advocating for them, ensuring they are treated well, and making sure they have an opportunity for a good life.
Upcoming events: •Richmond Brunch Weekend, Saturday, Sept. 9, and Sunday, Sept. 10,
https://richmondspca.org/events/richmondbrunch/
•Richmond Tattoo & Arts Festival, Oct. 20-22, The Richmond SPCA is the charity partner for this year's festival, which is celebrating its 35th year. https://richmondtattoo-convention.com/
•25th Annual Fur Ball, Saturday, Nov. 4, Richmond's only black-tie event for people and their pets is held at The Jefferson Hotel to raise money for the veterinary rehabilitation of more than 3,500 homeless dogs and cats. https://richmondspca.org/furball
How I start the day: Early! I'm usually up by no later than 5:30 a.m., stretching, feeding horses, having breakfast, reading the paper, and getting organized before I head into the office.
The three words that best describe me: Authentic, visionary/strategic, resilient.
My pets are: Royal, our 9-year-old yellow lab, and the horses we have been blessed to have in our lives.
Best late-night snack: I don't do late-night snacks! But if I did, it would be a glass of red wine and a chocolate chip cookie.
Something I love to do that most people would never imagine: I am a retired equestrian competitor, but I still love sitting in the saddle!
A quote that inspires me: "Success is not final, failure is not fatal; it is the courage to continue that counts," by Winston Churchill.
The best thing my parents ever taught me: The importance of hard work.
The person who influenced me the most: Bill McAllister, the founder of Colonial Mechanical, now ColonialWebb Contractors.
Book that influenced me the most: "Leadership Pipeline" by Ram Charan, Stephen Drotter, James L. Noel. It provides an understanding of the nature of leadership, how to develop it in yourself and others, and how to build a strong company with it.
What I'm reading now: "Think Again – The Power of Knowing What You Don't Know" by Adam Grant. It speaks to the importance of thinking outside the box, not holding on to past convictions, always seeking out the opinions of others, and being willing to challenge my own thought process.
Next goal: Semi-retirement is three to four years away. I am a lifetime planner, so figuring out the next chapter is frequently on my mind.