Capital of compassion
Mayor Stoney's upbeat agenda: Increased home ownership, public safety, enhanced learning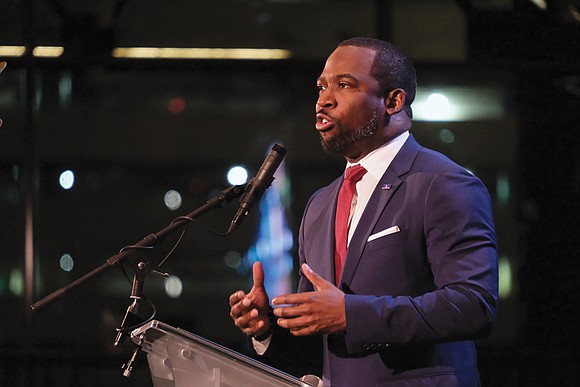 As he launched his seventh year in office, Mayor Levar M. Stoney painted a rosy picture of a thriving city "filled with promise and hope ... and purpose" Tuesday in delivering his State of the City address.
Along with noting a decline in poverty and growth in population, cultural resources and the economy, Mayor Stoney also laid out a series of new initiatives in the 45-minute speech he delivered to several hundred people at Main Street Station and to thousands of residents who tuned in online.
The city's 41-year-old chief executive announced plans to launch programs that would enable Richmond students to continue their education at a community college; expand pre-school options in partnership with the YWCA; make home ownership more affordable; and boost public safety with the use of technology.
Leaving others to worry about a recession, the mayor emphasized the positives: "Business is booming; our financial house is in order; our streets our cleaner; and our communities are safer and healthier. In our quest to be the best city we can be, Richmond is winning."
Praising council and the city employees for their efforts that he said are creating a more "efficient and effective government," he spotlighted one his most significant accomplishments– the removal of all but one monument to the defenders of slavery.
"As you know, when I took office in 2017, the city was still honoring its symbols of hate oppression and division," he said. "Not today. Today, Richmond is free of Confederate monuments," except for the large stone monument to Richmond's Confederate units that still sits on the lawn of the Marsh Courts Building in South Side.
To the delight of City Council President Michael J. Jones, who delivered the invocation, much of the speech focused on families as Mayor Stoney emphasized ways in which the city is heading into the future as the "Capital of compassion, where all can thrive."
The college scholarship program is one example of that effort, said Mayor Stoney, the first member of his family to go to college. He said that he has tasked the Office of Children and Families to develop a pilot program called Pathways that would begin this fall to support Richmond Public Schools graduates.
The city, he said, will team with Reynolds Community College and the Greater Richmond Aspirations Scholarship Program (GRASP) on a program that "will pair a traditional scholarship with a monthly cash allowance, mentorship and additional supports so that more RPS graduates have the opportunity to achieve post-secondary success."
He said the program will initially be allocated $1.5 million, based on commitments from the Community Foundation, Altria, CoStar and Dominion, and he challenged other businesses to invest "in the future of our kids."
The new program is part of "our larger vision that I am calling the Richmond Commitment: We are committed to universal access to preschool; we are committed to quality after-school programming; and we are committed to higher education to set our kids up to succeed in life," he said.
Mayor Stoney also noted that funding for the operation of the city's public school has increased by 33 percent since he took office. During his tenure, RPS also has gained three new school buildings, and as the result of city initiatives, every elementary and middle school student has access to after-school programs.
Along with purchasing diapers and formula to aid families with babies, he noted the city has added 250 child care and preschool slots using federal dollars.
To build on that, he said the city would contribute $250,000 in American Rescue Plan funds to assist the YWCA in opening a previously announced Sprout School for 60 children age 2 months to 5 years old in Oregon Hill.
He noted that Richmond also is spending $4 million in funds from its federal allocation to provide shelter to the homeless, more money and resources than the other localities in the Central Virginia.
On the homeownership front, the mayor cited the return of $18 million to city property owners as part of the work to make housing more affordable. He also cited the $18 million the city in federal funding the city is investing to help private developers meet the city's goal of adding 1,000 lower rent apartments a year.
But he said many families are like his. "The opportunity to own a home and created generational wealth was never really in the cards for us," said Mayor Stoney, whose father worked as a school janitor and maintenance worker before his death at age 49.
He said the opportunity is even more difficult with prices soaring as investors snap up much of the available housing, skewing the market and limiting the support for new homeowners.
One way to address that is to do more to help residents buy their first home with down-payment assistance and funding to reduce mortgage interest, he said.
He said he has set a goal of increasing 2,000 new homeownership opportunities in the city by 2030, working in partnership with the Richmond Redevelopment and Housing Authority and other community groups involved with housing.
"In the coming months," the mayor said his administration would finalize the action plan that would focus "on building, preserving and protecting homes" while also creating sustainable home ownership opportunities, which drew praise from City Council's leading advocate for affordable housing, 6th District Councilwoman Ellen F. Robertson.
Ms. Robertson helped launch the first city-supported program promoting home ownership while serving as executive director of a nonprofit housing group in Highland Park. She said this year, the city has set aside $2 million in its Affordable Housing Trust Fund for the purpose of aiding new homebuyers.
She said the program would continue to develop so long as the mayor kept his promise to provide $10 million a year to the fund, with $8 million going to support development of income-restricted apartments and the remaining $2 million to support homebuyer initiatives.
The mayor also highlighted efforts to deal with the violence that continues to plague some sections of the city. In January, Richmond had five homicides along with a string of other shootings, according to police reports.
"The cornerstone of a thriving community is safe neighborhoods and streets," the mayor said. "In Richmond, we have to be tough on crime and tough on the root causes of crime."
He said to help recruit and retain people, the city, with council's support, has invested $22 million in pay increases for police officers and firefighters, the most significant pay increase ever for first responders. In the current year, police, fire and emergency communications have received a record $177 million.
Still, police remain shorthanded. Mayor Stoney said that new technology will play a bigger role. He said that a $750,000 state grant the city just received will enable the city to develop a Real Time Crime Center, now in use in other major cities like Las Vegas and Miami.
"Think of this as an 'air traffic control' for officers in the field," the mayor said. Using cameras and computers, the center will enable the Police Department to "maximize the efficiency and speed of investigations, helping to lock up violent offenders and locate illegal guns."
He said technology is already at work. In 2022, he said, the Summer Gun Violence Initiative "used data to divide our city into 29,000 micro areas," enabling police to identify specific locations with the highest rates of violence and enabling the department to deploy additional resources to those specific places.
One result was a 54 percent reduction in murders in those areas, he said, and an overall drop of 34 percent into homicides citywide, he said.
In the past year, using such data-driven techniques, Richmond police seized 1,000 illegal guns and made 235 felony arrests through Operation Red Ball, he said.
He also urged the public to help the fight to reduce crime and violence by locking their cars and ensuring that any guns are secured inside. Last year, he said, 741 guns were stolen from parked cars in the city that were left unlocked.
Mayor Stoney said Richmond is better addressing individual mental and behavioral health issues through the Marcus Alert system while also adding new green spaces, installing new street lights addressing blight and building up after-school programming to improve safety.
In other words, he said, the city "is being intentional, results oriented and better than before."
He said the city also is seeking to address last year's record 28 traffic fatalities with a 90-day enforcement campaign involving city and state police, with the goal of reducing aggressive, impaired and inattentive driving.
"Overall, we've come a long way these past six years," the mayor said. "The state of the city is better than its ever been. And I say, 'Our best is yet to come!'"