Barbara Walters cultural fixture, TV icon, dies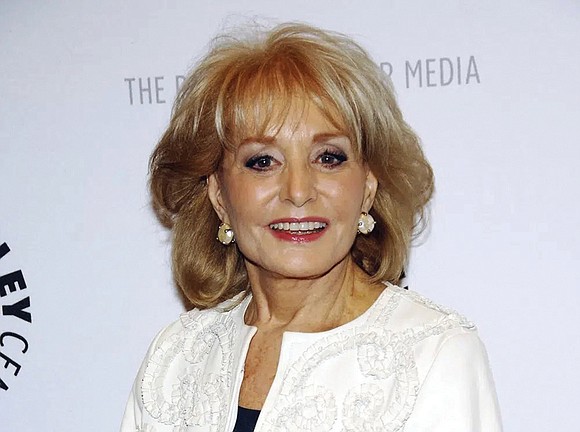 For more than a half-century, she was on the air, placing in front of her audience world figures, big shots and celebrities whose names and faces might have changed from year to year. But hers never did.
She first found her way to prominence in a visually oriented business where, typically, women were adornments or otherwise secondary.
And there she stayed, stayed so long and reliably she came to serve as a trusted reference point: What Barbara thought, what she said and, especially, what she asked the people she interviewed.
Ms. Walters, whose death at age 93 was announced Dec. 30, 2022, was a heroic presence on the TV screen, leading the way as the first woman to become a TV news superstar during a career remarkable for its duration and variety.
Late in her career, she gave infotainment a new twist with "The View," a live ABC weekday kaffee klatsch with a diverse all-female panel for whom any topic was on the table and who welcomed guests ranging from world leaders to teen idols. A side venture and unexpected hit, Ms. Walters con- sidered "The View" the "dessert" of her career.
Ms. Walters made headlines in 1976 as the first female network news anchor, with an unprecedented $1 million salary that drew gasps.
During nearly four decades at ABC, and before that at NBC, Ms.Walters' exclusive interviews with rulers, royalty and entertainers brought her celebrity status that ranked with theirs, while placing her at the forefront of the trend in broadcast journalism that made stars of TV reporters and brought news programs into the race for higher ratings.
Her drive was legendary as she competed — not just with rival networks, but with colleagues at her own network — for each big "get" in a world jammed with more and more interviewers, including female journalists who followed the trail she blazed.
"I never expected this!" Ms. Walters said in 2004, taking measure of her success. "I always thought I'd be a writer for television. I never even thought I'd be in front of a camera."
But she was a natural on camera, especially when plying notables with questions.
In May 2014, she taped her final episode of "The View" amid much ceremony and a gathering of scores of luminaries to end a five-decade career in television (although she continued to make occasional TV appearances). During a commercial break, a throng of TV newswomen she had paved the way for — including Diane Sawyer, Katie Couric, Robin Roberts and Connie Chung — posed with her for a group portrait.
"I have to remember this on the bad days," Ms. Walters said quietly, "because this is the best."
Her career began with no such signs of majesty.
Ms. Walters graduated from Sarah Lawrence College in 1943 and eventually landed for a "temporary," behind-the-scenes assignment at "Today" in 1961.
As she appeared more frequently, she was spared the title of "'Today' Girl" that had been attached to her token female predecessors. But she had to pay her dues, sometimes sprinting across the "Today" set between interviews to do dog food commercials.
She had the first interview with Rose Kennedy after the assassination of her son, Robert, as well as with Princess Grace of Monaco, President Richard Nixon and many others. She traveled to India with Jacqueline Kennedy, to China with Nixon and to Iran to cover the shah's gala party. But she faced a setback in 1971 with the arrival of a new host, Frank McGee. Although they could share the desk, he insisted she wait for him to ask three questions before she could open her mouth during joint interviews with "powerful persons."
By 1976, she was a "Today" co-host and was earning $700,000 a year. But when ABC signed her to a $5 million, five-year contract, she was branded "the million-dollar baby."
Walters is survived by her daughter, Jacqueline Danforth.