Support for Damar Hamlin continues among NFL and fans
Jay Adams | 1/12/2023, 6 p.m.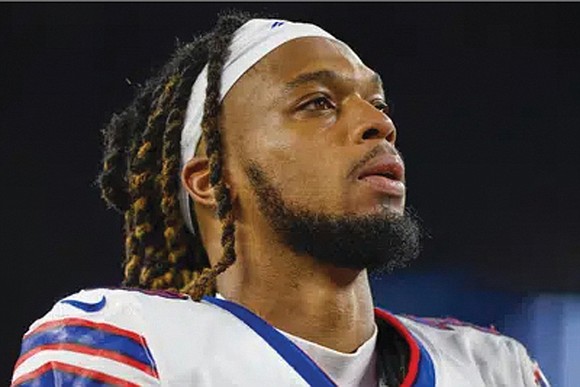 Sunday, Jan. 8, marked the first time that the Buffalo Bills took to the football field since Bills' safety Damar Hamlin suffered cardiac arrest on the field only minutes into their Jan. 2 game against the Cincinnati Bengals.
Since that traumatizing game, an outpouring of love and support for Hamlin has swept not only fans of football, but the nation.
Hamlin's GoFundMe "The Chasing M's Foundation Community Toy Drive," received more than $8 million in contributions from over 250,000 donors, and counting, as of Jan. 9. Prior to Hamlin's health scare, the fund had an overall goal of $2,500.
The nation celebrated last week when Hamlin woke up and sent a message to his fans via his Instagram.
"When you put real love out into the world, it comes back to you 3x's as much," he said. "The love has been overwhelming, and I'm thankful for every single person that prayed for me and reached out."
Hamlin was transferred from the University of Cincinnati Medical Center on Monday to Buffalo General Medical Center/Gates Vascular Institute. He was discharged from the Buffalo Hospital Wednesday to continue recuperating at home.
That "love" for Hamlin continued Sunday. Among all 16 games played during the final week of the NFL's regular season, the No. "3" (Hamlin's number) in Bills' colors was painted on each team's 30-yard line.
Before each game, every stadium read aloud a pre-game message honoring Hamlin, the first responders, and the doctors who saved his life.