Anger grows in Virginia city where first-grader shot teacher
Ben Finley and Denise Lavoie/The Associated Press | 1/19/2023, 6 p.m.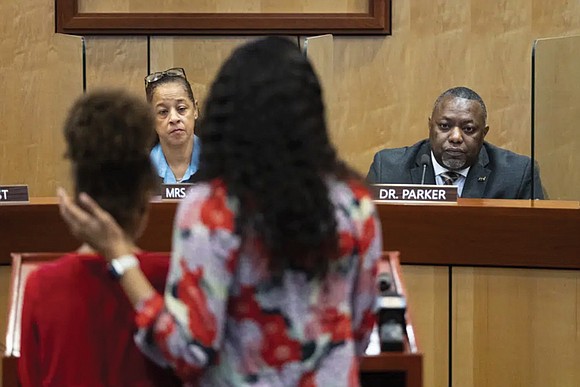 NEWPORT NEWS - When a 6-year-old shot and wounded his first grade teacher in this shipbuilding city near Virginia's coast, the community reacted with collective shock.
But the sentiment percolated over 12 days into rage from parents and particularly from teachers, with many lambasting school administrators Tuesday night for what they called a misguided emphasis on attendance and other education statistics over the safety of children and staff.
During a three-hour School Board meeting dedicated solely to public comment, Newport News teachers and parents said students who assaulted classmates and staff were routinely allowed to stay in the classroom with few consequences. They said the shooting of Abigail Zwerner could have been prevented if not for a toxic environment in which teachers' concerns are systemically ignored.
"Every day in every one of our schools, teachers, students and other staff members are be- ing hurt," high school librarian Nicole Cooke told the board. "Every day, they're hit. They're bitten. They're beaten. And they're (students) allowed to stay so that our numbers look good."
Addressing superintendent George Parker, Ms. Cooke said: "If Abigail had been respected, she wouldn't be in the hospital right now."
The shooting occurred on Jan. 6 as Ms. Zwerner taught her first grade class at Richneck Elementary. There was no warning and no struggle before the 6-year-old pointed the gun at his teacher and fired one round, police said.
The bullet pierced Ms. Zwerner's hand and struck her chest. The 25-year-old hustled her students out of the class- room before being rushed to the hospital.
Newport News police said the 6-year-old's mother legally purchased the gun but that it was unclear how her son gained access to it. A Virginia law prohibits leaving a loaded gun where it is accessible to a child under 14, a misdemeanor crime punishable with a maximum one-year prison sentence and $2,500 fine. No charges have been brought against the mother so far.
Community reaction shifted into anger late last week after the superintendent revealed that Richneck administrators had learned the child may have had a weapon in his possession before the shooting. But a search did not find the 9mm handgun despite staff looking through his bag.
Ms. Zwerner's shooting was "completely preventable — if the red flags had been taken seriously and proper procedures clearly communicated and followed," Amber Thomas, a former school psychologist in Newport News, told the board.
Ms. Thomas left the school system early in 2022 after working there for a decade. In an interview with The Associated Press, she recalled a time when a "teacher was assaulted by a student — and that student faced no disciplinary action at all."
"There were situations in which the administrators walked away from things that were happening," said Ms. Thomas, who served three elementary schools at a time, although not Richneck. "A school counselor and I were often called to intervene with explosive behaviors. And the administrator would see what was going on and turn around and walk the other way and never assist or do anything to follow up."
Cindy Connell, a middle school teacher who also addressed the board, told the Associated Press that the school system's leadership is too afraid of angering parents and too focused on limiting discipline such as suspensions.
"I think that our administrators are under an intense pressure to make everything appear better than it is in reality," Ms. Connell said. "And that approach, over the course of a number of years, has put us where we are today."
Ms. Connell said there's a general fear over the public's response to doing something like searching a 6-year-old for a weapon — and a weapon not being found. There are also concerns that pulling kids with serious behavioral problems out of the classroom will imperil a school's accreditation.
The shooting by a first- grader was not a shock to Ms. Connell.
"I have teacher friends who have been hit by kindergarteners, kicked by kindergarteners, punched by kindergarteners, stabbed with pencils by kindergarteners," she said. "So the only difference is that this child had access to a weapon at home. So, if you put those two things together, I'm not surprised."
Michelle Price, a spokeswoman for the School Board, did not immediately respond to an email from The Associated Press asking for comment on the various criticisms expressed Tuesday night.
More than 400 of the nearly 1,000 incidents of violent crime in the city in 2021 involved a handgun or firearm, according to FBI statistics.
"Gun violence has become a constant for our students," William Fenker, an eighth-grade science teacher, told the board. "Our students do not wonder if there will be another school shooting. They wonder when and where the next shooting will be."