Fatigue and despair build as Calif. copes with massacres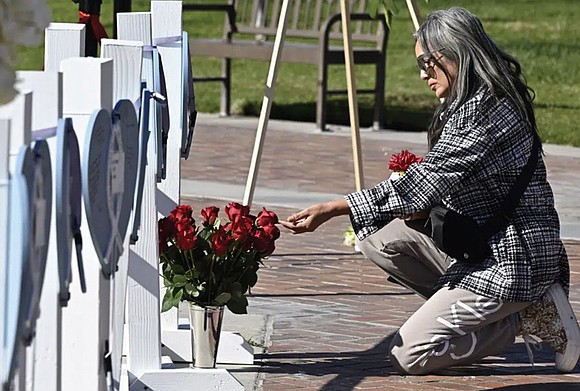 MONTEREY PARK, Calif. - In the wake of the worst massacre in Los Angeles County history, the California governor was meeting gunshot victims in the hospital when he was pulled away and briefed on a mass shooting at the other end of the state.
Word that a gunman had killed seven people at mushroom farms in a scenic coastal stretch of Northern California came just hours after Gov. Gavin Newsom spoke of his fatigue and frustration with mass shootings.
"I can't keep doing them," he told reporters earlier Monday in Monterey Park, where 11 people were killed at a dance studio. "Saying the same thing over and over and over again, it's insane."
Yet Gov. Newsom was in Half Moon Bay on Tuesday to address the third mass shooting in just over a week in a state with some of the nation's toughest gun laws and lowest gun death rates.
His voice brimming with anger and emotional at times, Gov. Newsom said he consulted notes he used at past mass shootings: the slaying of 12 at a Thousand Oaks country and western bar in 2018; the killing of three and wounding of 17 at the 2019 Gilroy Garlic Festival; the slaying of nine workers at a San Jose rail yard in 2021.
"I started writing in 'Monterey Park,'" Gov. Newsom said. "And now I gotta write in, 'Half Moon Bay.' What the hell is going on?"
A 66-year-old farm worker was booked on murder and attempted murder charges after shooting eight people, killing seven, in a crime authorities said was a case of workplace violence in the rich agricultural area that lies between the Pacific Ocean and coastal mountains.
In Monterey Park, a 72-year-old gunman shot up a dance hall in an Asian-American community that had been celebrating Lunar New Year's Eve on Saturday night, wounding nine people in addition to the 11 killed. The gunman later took his own life.
A week earlier, at least two assailants fatally shot a 16-year-old mother clutching her 10-month-old baby, and killed four others in a brazen attack in a Central California farming community that remains unsolved.
"Our hearts are with the people in California," President Biden said Tuesday at a meeting with Democratic congressional leaders. "They've been a rough, rough couple of days."
President Biden noted that Sen. Dianne Feinstein, D-Calif., introduced an assault weapons ban, and he urged lawmakers to pass it.
Gov. Newsom also called for stronger gun safety laws and took particular aim at the large capacity magazines — like the one the dance studio gunman had — and what he called "weapons of damn war."
"It's said all the time: 'Only in America,'" he said. "No. 1 in gun ownership, No. 1 in gun deaths. It's not even complicated."
The recent slayings moved California up five slots to 26th place on the number of fatal mass shootings per capita in the U.S. since 2006, according to a USA TODAY/ AP/Northeastern University mass killing database. The database only counts killings of at least four people.