Personality: Joye B. Moore
2023 Ernst & Young Entrepreneur of the Year for the Mid-Atlantic Region 2023 winner for Best Peach Pie in the Country by American Pie Council
7/6/2023, 6 p.m.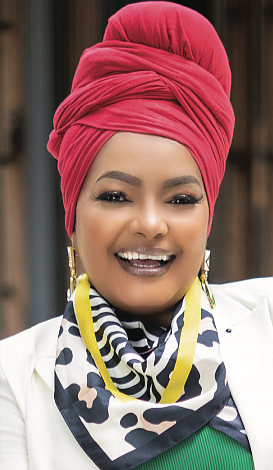 Joye B. Moore's recipe for sweet potato pie was handed down from the women in her family going back to her great-great-great grandmother, Susan Mae Howell.
Thus, over the past 30 years, Mrs. Moore has made pies and given them as gifts to family, friends and co-workers. After eagerly sampling the pies, their satisfied recipients always told Mrs. Moore the same thing, "Girl, you need to sell these."
Four years ago, she started doing just that.
In 2019, Mrs. Moore founded Joyebells. She knew starting a business from scratch would be a challenge, but she had overcome challenges in her life before.
The North Carolina native came to Richmond in the 1990s. Before taking her entrepreneurial leap, she worked for a nonprofit organization that coordinated learning activities for middle school students outside of the regular school day. She recognized the program's importance based on her own life experiences.
Mrs. Moore calls herself a "thriving survivor" of physical and mental abuse from a mother who was living with an untreated mental illness and sexual abuse by her stepfather, she said. She ran away from her Goldsboro home at 14, then spent the next three years living in abandoned houses and eating from dumpsters in Dallas.
"I still went to school every day and graduated high school on time with a 3.79 GPA," says Mrs. Moore, crediting the South Dallas YMCA after-school program for helping her achieve that while being homeless.
Although she loved working with middle schoolers, she saw an opportunity to pursue her longtime dream when she was laid off. Mrs. Moore told her husband, Eric, that she wanted to sell pies.
Joyebells started out making 150 sweet potato pies a month. Less than two years later, Food Lion put them on shelves in 45 stores and her sales jumped to 900 pies sold a week. Mrs. Moore's husband, sister and children all joined in to help scale up the business.
Over the next two years, the company added a peach pie to the signature sweet potato pie, and started working with a co-packer that had the capacity she needed to become a national brand. In 2022, Joyebells sold 2.8 million pies.
In May, Joyebells entered the American Pie Council's national competition and its peach pie won best in the country against the likes of Sara Lee. A month later, Joyebells was named Entrepreneur of the Year for the Mid-Atlantic Region by Ernst & Young. The distinction came with a chance to win the national title in November.
Mrs. Moore says being recognized for her success "affirms the little girl in me who always believed there was something better for me than the life I was living."
She adds that it is also motivation to keep going until everyone knows the Joyebells name and has the chance to "try it or deny it."
She even imagines producing a Joyebells cooking show one day.
"Those opportunities that are meant to be will find their way to you," Mrs. Moore says. "The biggest thrill is that I am building something to leave to generations to come."
Meet a major Richmond brand owner and this week's Personality, Joye B. Moore:
Latest achievements: 2023 Ernst & Young Entrepreneur of the Year for the Mid-Atlantic Region and 2023 winner for Best Peach Pie in the Country by American Pie Council.
Occupation: Founder/CEO, Joyebells.
Month and place of birth: January in Goldsborough, N.C.
Where I live now: Richmond.
Family: I am the sixth descendant of Susan Mae Howell, originator of Joyebells Sweet Potato Pies. Her recipes have passed down six generations. My husband, Eric Moore, COO; my sister Cassandra Wheeler; my daughter Tylor Moore, and my sons, Lynden Moore and Adonis Moore.
How I got the news I was named the 2023 Ernst & Young Entrepreneur of the Year for the Mid-Atlantic: I was in Bentonville, Ark. when my sister and daughter called me with the great news! I had to choose between going to the awards dinner in Washington or being a panelist on Walmart's Supplier Summit panel for Equity in Entrepreneurship. I chose to attend Walmart's summit and my team members represented (me at the Ernst & Young event) and received the award on my behalf. They called me screaming! I started screaming!
How I got the news I was winner for Best Peach Pie in the Country by American Pie Council: The competition ended with an award/ribbon ceremony for the winners of each category. It was surreal! Eric and I were holding a conversation at the back of the hall when our name was called. Hilarious! Eric and I walked to the stage (grinning) to receive the beautiful award.
How I feel about each award: I am so happy and overwhelmed with gratitude for these amazing acknowledgements from EY (Ernst & Young) and American Pie Council family! It is definitely an honor and privilege to represent the Mid Atlantic family of Entrepreneurs at Nationals and I will do my very best to make Virginia proud. And to have my Mother's recipe acknowledged is amazing! All of this is truly a reminder from God that all things are possible! So... keep moving!
How long I have been in the pie baking business: Joyebells will officially be four-years old Oct. 1.
What makes them so delicious: Joyebells is home. Six generations of Southern, backwoods, country deliciousness made with love and tradition. And... Yes, It's that Good!
What makes me special as a pie baker: Nothing. I am sure that I work just as hard as any other business owner. But I do believe that I am walking in God's will and under his divine direction.
My secret sauce for success is: Faith. I know and believe with everything within me that our product is the best and that I am doing what I am supposed to be doing! And no matter what things look like or how they feel, I keep moving!
Best business advice given to me: Have your business foundation complete and intact prior to launching. Licenses, certifications (if applicable), trademarks, etc.
No. 1 fear in the beginning: Having to start all over at a new traditional job. Not knowing anything about the food and beverage industry and feeling like I was racing against the clock to learn as fast as I could.
No. 1 challenge facing entrepreneurs like me: Access! Equity is being in the room! Access to buyers and scaling partners. Access to funding. Access to tools and resources.
Ways I make a difference in the community with my pies: JOYEBELLS uses its platform to have significant community impact through advocacy, volunteerism and fundraising for organizations that fit Joyebells Charities' four focus areas; Mental Health Wellness, Child Abuse Prevention, Teen Homelessness Prevention and access to quality OST (Out of School Time) programming for youth.
The three words that best describe me: Hopeful, focused, driven.
If I had 10 extra minutes in the day: I would do face yoga.
Best late-night snack: I try not to snack late at night, but if I do, popcorn.
Something I love to do that most people would never imagine: I talk to myself. I dream things that will be and I write songs in my dreams.
The best thing my parents ever taught me: Tenacity. To never stop until I get what I want.
The person who influenced me the most: My husband, Eric. I had been on my own prior to meeting Eric. I have learned what a family looks like and that I was not alone. In turn I found a safe place to grow and a champion for any dream that I have had, including three self-produced albums, music videos and a book.
Book that influenced me the most: "A Piece of Cake by Cupcake Brown." She showed me that it does not matter who you are or where you come from, you can do anything you set your mind to! I would love to meet her one day.
What I'm reading now and my takeaway: I don't have time to leisurely read at this time, but next on my reading list is Oprah's "What Happened to You."
Next goal: To make Joyebells accessible to everyone by having a strategic national retail footprint with the full Joyebells brand, including Joyebells CountrySides: Collard Greens, Sweet Potato Casserole, Macaroni and Cheese and Cornbread Dressing. And then introduce Joyebells internationally.