You can't bury hope or history, by Julianne Malveaux
7/27/2023, 6 p.m.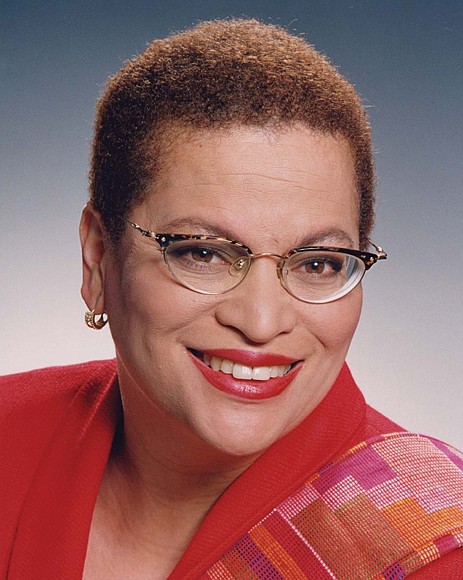 On July 16, Rev. Jesse Louis Jackson announced that he would pivot from his role as president of the National Rainbow Coalition to become a university professor and adviser to his successor, the Rev. Frederick Douglas Haynes III, an activist and the pastor of Friendship-West Baptist Church in Dallas. This announcement, accompanied by a laudatory speech from Vice President Kamala Harris, should have been front-page news. Instead, except for the Chicago newspapers, Rev. Jackson's resignation from the group he founded in 1971 garnered little national news.
However, Rev. Jackson's transition from leadership was big news to the people who worked on his 1984 and 1988 presidential campaigns. About 200 of Rev. Jackson's delegates and campaign workers gathered for a reunion at the PUSH headquarters July 14-16 to reminisce and celebrate his decades of leadership. The man whose mantra was "Keep hope alive" offered hope to those disheartened by the recent rise in racism, virulent anti-blackness, legislative and judicial hostility resulting in attacks on voting rights, and the reversal of affirmative action.
Rev. Jackson has not disappeared from the national scene. Instead, too many want to write him off, just as they have attempted to write off history. The sentiment to ignore Rev. Jackson is the same sentiment that has allowed truth-deniers to introduce legislation outlawing teaching about race in 44 states. Thanks to Rev. Jackson's campaign veterans, though, the world will learn that biased journalists cannot bury either history or hope.
At a time when state legislators and Supreme Court justices have attacked voting rights, Rev. Jackson's legacy in registering more voters than any other single individual in history is unassailable. And who can deny Rev. Jackson's international impact – from his rescue of Lt. Robert Goodman from Syria through his work on the anti-apartheid movement and his relationship with Nelson Mandela? His international reach is reflected in his participation in this year's PUSH conference, which includes delegates from several African countries, the Caribbean, and Europe.
His peers in the Civil Rights Movement sent tributes of recognition. They came from the National Urban League's Marc Morial to the National Action Network's Al Sharpton, to tweets from Presidents Clinton and Biden to Chicago's Mayor Brandon Johnson, appreciation rained down on Rev. Jackson. Housing and Urban Development Secretary Marcia Fudge defined PUSH – as "to press upon a thing with force to move it away, to move something in a specified way by exerting force." She noted that PUSH has been a force for justice, a force against the barriers of racism. There are setbacks, she said, to be sure. But as long as that force is there, there will be change.
That the United States vice president traveled to Chicago to salute Rev. Jackson crystallizes his importance to the nation and the world. Kamala Harris shared how important Rev. Jackson has been to her life and career and said she would not be vice-president were it not for Rev. Jackson's work. Others shared similar tributes, and I, too, have a testimony. I met Rev. Jackson first in 1973 as an Essence Magazine intern and later worked on his1984 campaign. I vividly remember his assertion in his speech at the Moscone Center that "God isn't finished with me yet." Indeed, since 1984, God has continued to mold, shape, and bless Rev. Jackson.
Rev. Jackson isn't giving rousing speeches anymore. But he still brings us to our feet. He doesn't shout. The Parkinson's he has battled since 2017 has reduced his mighty roar to a whisper. But his whisper is that of hope and history. "Keep hope alive," he tells assembled delegates. "I am somebody," he quietly encourages the crowd in his trademark chant.
The writer is an economist, author, and dean of the College of Ethnic Studies at Cal State LA.