Personality: Brandy W. Stoney
Spotlight on Robinson Theater Community Arts Center board president
6/1/2023, 6 p.m.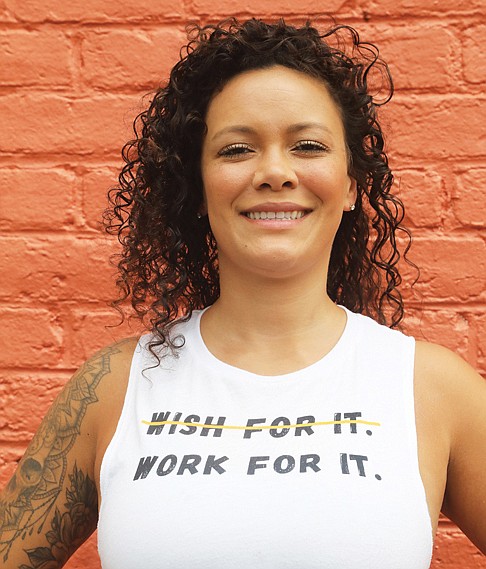 The Robinson Theater Community Arts Center is a Church Hill institution that opened in 1937 as the first theater for African-Americans in the area. After closing in the 1980s, it reopened as an event space for children and adults in 2009.
For Brandy W. Stoney, the current president of the Robinson Center board, the building is "now like home to me," and an East End legacy that she enjoys helping to guide and sustain.
"I believe that a good heart and passion can do great things if given the right space to do so," Mrs. Stoney says when asked why she accepted the role of board president.
"By becoming vice chair, and now board chair, I'm able to support the already ongoing leadership from the executive team at the Robinson, but also bring in new ideas, networks, and drive to further propel us into the ever-evolving Church Hill that we see today."
Community engagement sparked Mrs. Stoney's interest in the Robinson, who joined the organization as its vice chair in January 2022, and became the board chair in January 2023.
Mrs. Stoney became a part of the Robinson Center for reasons both personal and societal. Her late father, Ira Washington, lived in Church Hill for decades with his family. Thus, her family maintains a deep connection to the community.
"I had a desire to do right by the neighborhood that raised me, my dad, and my dad's family," Mrs. Stoney says. "I believe that wellness should be accessible to all, and the Robinson drives that through its social engagement programs every day."
Programs at the Robinson Center include instructional classes in dance, art, karate and fitness training. Film screenings and a space for meetings and seasonal community events also are available at the center.
Mrs. Stoney also works to advance health outside the Robinson Center through her business, Beee Squad, which provides personal training and promotes community well-being.
With the Robinson Center, however, her efforts involve community connections, funding and other strategies to bring greater awareness to the organization and its mission in Church Hill.
The Robinson Center's biggest challenge, in Mrs. Stoney's view, is one faced by similar cultural and arts organizations — a changing community and changing needs. However, she believes that, regardless of how Church Hill may look in the future, the organization will always strive to be a "true resource for every individual in the community."
"Now that I'm here, and The Robinson Center is home, I believe it will always be an integral part of my life," Mrs. Stoney says.
"I'll always want to see the organization grow, flourish, and thrive — in whatever way that looks over the next years — and will continue to push awareness, find resources, and help build relationships to do just that."
Meet the board leader of a longtime Church Hill institution and this week's Personality, Brandy W. Stoney:
Volunteer position: Board president for the Robinson Theater Community Arts Center.
Occupation: Chief movement officer, Beee Squad.
Date and place of birth: Dec. 12 in Richmond.
Where I live now: Church Hill.
Education: Bachelor's degree in chemistry, Randolph Macon College; MBA, University of Richmond.
Family: Husband, Levar M. Stoney. Mom and sisters still live in Richmond; brother and family are in Virginia Beach.
Robinson Theater Community Arts Center is: Now like home to me. It's an integral part of the East End network that provides fun programming for all people.
Formally, the Robinson Center is a multipurpose nonprofit organization that exists to inspire, encourage, and restore healthy community life to the residents of North Church Hill, primarily through arts, fitness and nutrition-based programs, and community events.
Location: 2903 Q St.
When was the Robinson Theater established: Built in 1936, Robinson Theater was the first "colored" theater in the region and served as the hub of community life throughout the 1930s, 1940s and 1950s.
After hosting businesses through the 1960s-1980s, the building fell into disrepair. In 2007, local residents Mitch and Debbie Bennett and Michael and Sharon Thaler purchased the building and undertook reviving the theater to its former glory. After extensive renovation, the Robinson Center opened in February 2009.
How the theater got its name: The Robinson was named after Bill "Bojangles" Robinson – an acclaimed film star who was born in Richmond.
What was the Robinson Theater known for in its heyday: The Robinson was a dazzling centerpiece in Church Hill, and a center for activity in the late 1930s. Built as an entertainment venue for the thriving middle-class African-American neighbor- hood, the theater quickly became the hub for the community to view films, singers, dancers, jazz bands, comedians and amateur talent shows.
What caused the theater to close and when: For the roughly 50 years following its initial opening, the Robinson became home to various types of entertainment spaces, including a disco, restaurant, pool hall and nightclub. The Robinson eventually closed and shuttered its doors without much repair until 20 years later.
Current use of theater: Within North Church Hill, the Robinson Center is the only event venue available for rentals that can hold 300+ people. Perhaps more importantly, it is the only organization that offers the variety and type of programs they offer for both youths and adults.
The need that the Robinson Theater Community Arts Center fulfills: Participants in the Robinson's programs will increase social connections; improve the health, happiness and well-being of participants; and potentially increase their personal investment in the over-all health of the community.
Activities offered by the Robinson Theater Community Arts Center: I personally teach a fitness class every Tuesday and Thursday morning, but we have many different types of programming available.
• Adults: arts, culture and fit- ness classes;
• Families: family movies, fes- tivals and performances;
• Youths: educational, health and fitness classes;
• Schools: free programs for students of Anna Julia Cooper, Chimborazo, Bellevue and George Mason elementary schools.
Ways to get involved: Support activities by signing up as a volunteer; support com- munity through venue rentals; support financially by making a contribution.
Robinson Theater Community Arts Center is funded by: The support of individual contributors and community members, organizations and grants.
Upcoming events: In the Sun Again, 5:30 to 7:30 p.m. Friday, June 9.
How I start the day: Most mornings are started with several minutes of meditation to get my mind set and up for the day.
The three words that best describe me: Curious, driven, and fun.
If I had 10 extra minutes in the day: I'd spend it sending even more memes and funny videos to my mom.
Best late-night snack: I'm a sucker for cereal.
The music I listen to most is: Upbeat and makes you want to dance. Think 2000s and 2010s pop and hip-hop club music.
Something I love to do that most people would never imagine: I love reorganizing closets and pantries.
A quote that inspires me: "You miss 100% of the shots you never take."
At the top of my "to-do" list: Plan the next two weeks of client programs and class workouts.
The best thing my parents ever taught me: Work hard, hustle harder.
The person who influenced me the most: Both of my parents, but my Dad was like a superhuman that just never gave up. He worked for Richmond Public Schools for 30+ years, and was diagnosed with cancer 20 years prior to passing away. I'll never say "he lost the battle with cancer" because he beat it every day.
Book that influenced me the most: "Becoming" by Michelle Obama. If ever there was a diary and a guidebook for life, this one is it for me.
What I'm reading now: "Metabolical" by Robert H. Lustig. I'm a huge nerd and I love reading nonfiction. After dealing with and navigating life through my own chronic illness journey, I grew more and more interested in the study of pathologies, nutrition and anatomy. Most of my work in the wellness space comes not only from teaching people about healthy movement, but also how their bodies work and the things we do that impact function.
Next goal: I'd love to host an easily accessible citywide fitness event that has workout sessions and nutrition seminars.