Personality: Elizabeth C. 'Lizzie' Childress
Spotlight on Richmond Public Schools 2023 top valedictorian
6/8/2023, 6 p.m.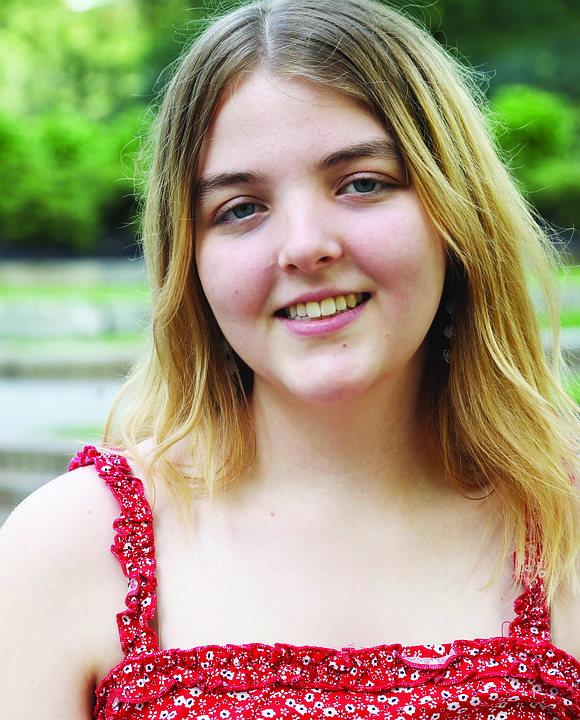 Lizzie Childress will be recognized as valedictorian at her graduation from Richmond's Open High School and her 5.2958 GPA also made her the Richmond Public Schools 2023 top valedictorian.
The dual achievement came as a shock to her and her parents.
"I was sure there were other people who had higher GPAs than I did," Lizzie said. "My parents are incredibly proud."
Many people think of 4.0 as being a perfect GPA. However, Lizzie was able to go beyond that by combining multiple high school AP classes with the Early College Academy at Reynolds Community College. When she walks across the stage this week to pick up her diploma, she will do it having already earned her associate degree in social sciences on May 15.
The achievement is all the more impressive when you consider the unique challenges that many students faced during the pandemic.
"I'm not the biggest fan of virtual classes because I get distracted easily," Lizzie said. "I guess I had a lot of late nights because of leaving things to the last minute. I know I need to stop doing that!"
That tendency to procrastinate was offset by a genuine curiosity to learn and master the material she was studying, along with a lot of diligence, hard work and persistence.
Lizzie also credits the love and support of her parents and the example of her grandparents who modeled positivity when faced with difficult situations.
Having great teachers helped as well. Lizzie says each and every one of her teachers had an influence on her, some even beyond the classroom.
"I started doing Irish dancing in second grade, but stopped in the fifth grade when my dance teacher moved away," she said. "It's really fun and a good source of exercise."
In 10th grade, Lizzie learned that her English teacher, Caroline DeWald, also taught classes at Crossroads Irish Dance. She started Irish dancing again and is now a member of the studio's adult performance club. She's hoping to continue performing if she can find the time and a place to take classes during the school year, or at least take some classes whenever she is home on breaks.
Lizzie currently is busy packing and preparing to start college life at Christopher Newport University in August. She will be in the school's honor program, and is excited that it also offers students the chance to earn a master's degree in five years. She also selected Christopher Newport because it has a museum studies minor.
"I've always wanted to do something with education. Both of my grandmothers were teachers so that's one reason why I wanted to be a teacher too." Lizzie said, before adding that art or history museum education is a career path she'd like to explore further.
"I definitely thought about being a museum educator first, but being able to curate and exhibit sounds really cool as well."
For now though, Lizzie says her focus is on a more immediate goal.
"I want to make my family and school proud, and not fall as I walk across the stage at graduation."
Meet the 2023 valedictorian for Richmond Public Schools and this week's Personality, Elizabeth Clare Childress:
Latest honor: RPS 2023 top valedictorian.
GPA: 5.2958.
What makes a GPA soar beyond a 4.0: I participated in the Early College Academy at Reynolds Community College and graduated with an associates degree in social sciences on May 15. I also took multiple advanced placement classes at my high school.
High school: Open High School.
Size of my graduating class: 46.
Extracurricular activities: I perform Irish Dance at Crossroads Irish Dance and am a member of its Adult Performance Club. I also play piano, babysit and pet sit.
Leadership roles in school activities: I was a student representative at my school and helped plan certain activities.
Family members: Mother, Susan Childress; father, Greg Childress; younger sisters, Merryn and Ruby Childress.
Date and place of birth: December in Richmond.
Where I live now: Richmond.
Reaction to valedictorian honor: Complete and utter shock. The last time I had checked my class rank in junior year I was eighth in my class so being first was news to me.
Reaction to being named No. 1 valedictorian of RPS: I literally did not believe it. I was sure there were other people who had higher GPAs than I did.
Family's reaction: Shocked and incredibly proud.
Main point I will make in valedictorian address: I want to try to focus on connection.
Universities that made scholarship offers with amounts: University of Mary Washington: Finalist for a full ride but received $10,000; Longwood University: $5,000; Champlain College: $88,000; and Christopher Newport University: $7,500.
The university I selected: Christopher Newport University.
Reason: I was accepted into their honors program, the campus is beautiful, and they had all of the academic opportunities I was looking for in a college.
How a positive outlook impacts scoring high: I try to use humor when faced with difficult situations, which allows me to have a positive outlook on most things.
What truly motivates me to study and excel: Truly wanting to understand and learn the material so I can actually use it and make a difference, but academic validation definitely plays a small part as well.
How much time I devoted to studying: There were many late nights and a few early mornings that I spent studying.
What really makes me smart: I don't really know... genetics? Also, diligence, hard work and persistence.
A good teacher is: Someone who is passionate about what they teach, and it's obvious they care about the success and well-being of their students.
Career goals: I've always wanted to do something with education, and more recently I have been leaning towards some sort of art or history museum education. I do also really love the National Parks, and a small part of me wants to pursue a career with them.
The secret to earning all As: Put effort into everything you do. Don't be afraid to ask questions so you can understand everything.
Advice I would give my high school freshman self: Enjoy it while it lasts. Everything is going to go by so quickly, so just take advantage of every opportunity you get.
Most unforgettable experience during high school: While virtual learning due to COVID-19 was definitely unforgettable, being the only student to go to a bonfire at the home of one of my Reynolds professors, and meeting basically her entire extended family, is something I will never forget.
Teacher who influenced me the most: All of the teachers I've had during high school have greatly influenced me, and I can't pick just one. The four teachers who have had the greatest impact on me, though, are Irina Alekseeva, Victoria Carll, Caroline DeWald, and Emily Betts.
How: These women have been so kind, patient, encouraging, and wonderful over the past four years I've been at Open. They allow me to be myself, and I feel so loved by them.
Hobbies: As I mentioned before, I enjoy Irish dancing and playing piano. I also dabble in stained glass and enjoy hiking and road trips.
How I start the day: I'm usually very tired, but I try to have hope and optimism that the day will be successful.
The three words that best describe me: Caring, quiet and comedic.
If I had 10 extra minutes in the day: I would probably take a nap or try to get through some of my TBR (reading) list.
Best late-night snack: Dill pickle chips or Snickers.
The music I listen to most is: I love pretty much all music, but I really enjoy pop-rock music and The Beatles. Right now, though, I'm listening to Noah Kahan on repeat.
Something I love to do that most people would never imagine: Procrastinate.
A quote that inspires me: "It never hurts to keep looking for sunshine." — Eeyore
At the top of my "to-do" list: Clean my room and start packing for college.
The best thing my parents ever taught me: How to put others first and love the people around me for who they are.
The persons who influenced me the most: My grandparents.
Book that influenced me the most: "The Little Engine that Could" was a major part of my childhood. I know it's kind of random for an 18-year-old to remember this book, but it really showed me I could do anything. Also, "The Year of Magical Thinking" by Joan Didion. I read this book recently and it really helped me understand and reflect on a lot of the grief/loss I've experienced and the pressure I put myself under.
What I'm reading now: "The Anthropocene Reviewed" by John Green. I really like it because of the random yet specific tangents Green goes on. I can relate to quite a few of the experiences he writes about, and it's just a really fascinating book that I've already learned a lot from.