Personality: Larry Williams
Spotlight on 6th Annual Black Pride RVA Weekend planning committee co-chair
6/22/2023, 6 p.m.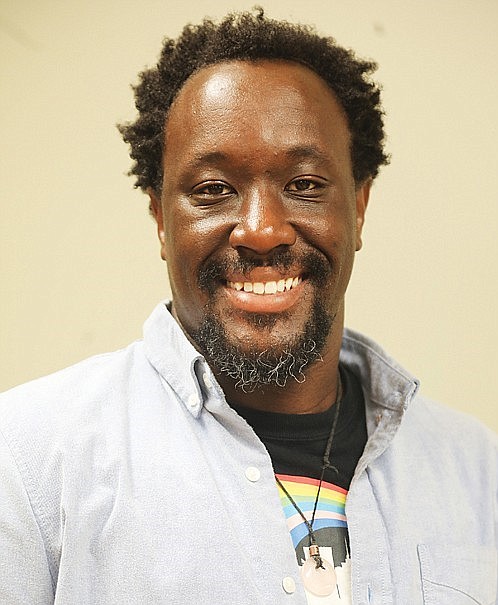 An end of college trip in 2014 with a former partner brought Larry Williams to Richmond, but the Black Pride community he found here made him stay. He became a part of the community himself. Now he lives on the South Side in the home he bought in 2019.
"The very first thing that makes my neighborhood so special is that my mom is my neighbor," he said by phone recently, explaining that when his next-door neighbors moved and the house went up for sale, his mother jumped on it.
The other thing he loves about Richmond is its vibe. Mr. Williams has watched it grow and develop over nearly a decade. He moved around a lot growing up the son of a military mother, and now he is enjoys laying down roots and building social connections within the community. That is something he says he learned from his mother.
"She definitely influenced me through her work ethic and her dedication to her local community," he adds. "She's from Florida originally. To this day when she goes back to visit, she makes time to volunteer."
Mr. Williams has definitely taken that to heart. In addition to his job as a territory executive with Mako Medical Labs, he has volunteered as a program assistant with Us Giving Richmond Connections (UGRC) since its inception six years ago. The nonprofit was founded by Black LGBTQ+ community leaders Rev. Dr. Lacette Cross, Luise "Cheezi" Farmer and Zakia McKensey to improve the health and well-being of Black LGBTQ+ communities in Greater Richmond.
"UGRC helps give people the connection piece — the social connection that they need," Mr. Williams said. "It helped me to connect the dots when I first relocated here. I was able to rediscover myself as part of a community."
This year, he is co-chairing the planning committee for the 6th Annual Black Pride RVA Weekend with Samuel Patterson. When UGRC started the event in 2018, it was the first of its kind in Richmond.
"Before [co-chairing] the first time, I was doing some side work with Lacette Cross. She told me she had a position for me that I would really enjoy," he recalled. "Although I was totally "voluntold," I really loved it. This is my second year as co-chair."
Making those connections, especially within the business community, "has been a challenge, but it's a fun challenge," he said.
The reward has been seeing just how much Richmond can be impacted by a dream and a vision.
"I have met people I never thought I'd meet," Mr. Williams said. "I never thought that I'd be talking to Mayor Stoney and that the mayor and the city would be paying attention to us.
UGRC expects about 5,000 people from near and far to at- tend the July weekend's events. In addition to their hallmark Day of Purpose, there will be awards, a Pride Brunch, the Blacktopia Ball and a community block party. Award recipients also will participate in a "Queer Talk" panel about LGBTQ+ issues with Mr. Williams as moderator.
Learning that her son is gay was an adjustment for his mother, but Mr. Williams is proud that she involves herself in the events and volunteers alongside him.
"Black Pride RVA has helped my mom a lot too," he said. "It has been difficult for her sometimes, but she has learned a lot meeting people across the spectrum."
"We have a great relationship," he adds, crediting his sense of humor and laughter is love attitude to his upbringing.
"My family's sense of humor is ridiculous," Mr. Williams said, before he added, "I'm not the person to tell bad news to though because I'll probably laugh."
He encourages anyone and everyone to come out and be a part of UGRC events.
"To be involved in your community is really to learn about yourself," says Mr. Williams. "It's a great way to make connections, have a good time and be educated."
Meet a strong advocate for the LGBTQ+ community and this week's Personality, Larry Williams:
Volunteer position: Co-chair, Black Pride RVA Planning Committee.
Occupation: Territory executive, Mako Medical Labs.
Date and place of birth: April 26, Anchorage, Alaska.
Where I live now: Richmond.
Education: Bachelor's in communications.
Family: Mother.
When and why Black Pride RVA was founded: The mission of Us Giving Richmond Connection is to improve the health and wellness of Black LGBTQ communities of the Greater Richmond Region. During the summer of 2016 Us Giving Richmond Connection was born. Black Pride RVA Weekend is a program of the Organization. The program's intention is to foster the Inclusion and advancement of equality within the Black LBGTQ+ community through education and social connection. The event is hosted annually on the third weekend of July. Events are generally free and include the "The Day of Purpose" "Pride in the Park" and the "Root Awards."
Founders: Lacette Cross, Luise "Cheezi" Farmer, Zakia McKensey.
How long I've been involved with UGRC: I have been involved since 2016 at the time of their inception, working as the program assistant.
Why this organization is meaningful to me: This organization is meaningful to me because it has become a foundation for me. Black Pride created a space where I can exist and express my true self. Black Pride has helped me acknowledge who I amandhowIshowupin the world as a beautiful human being.
Why I accepted the Black Pride RVA Weekend co-chair role: I accepted the position because I wanted a challenge. I wanted to learn about who and how our community can be impacted in a positive way. I wanted to focus on building a stronger bond with my community.
No. 1 goal as co-chair: My No. 1 goal has been to help foster connection to our community by providing a social environment where the community can feel supported, heard, honored and lastly can party with a purpose.
Upcoming events: July 14, Root Awards/Queer Talk, Virginia Union University, 1500 N. Lombardy St., 7 p.m., free of charge.
July 15: Day of Purpose, 11 a.m., Greater Richmond Convention Center, 5th and Marshall streets. Free.
July 15: Blacktopia Ball, Diversity Richmond, 1407 Sherwood Ave., 5 p.m., cost: $20-$200.
July 16: Pride Brunch, Di- versity Richmond, 11 a.m., cost: $20.
July 16: Community Block Party, Diversity Richmond, 2 p.m.
Why this is a hot ticket to grab: The Blacktopia is a hot ticket to grab because awards, prizes and special guests will be all available in one night!
Anticipated number of attendees: 5,000.
How I start the day: With a daily spiritual practice of reading and meditation.
The three words that best describe me: Genuine, funny and cosmopolitan.
If I had 10 extra minutes in the day: I would take those 10 minutes to sleep and or journal more.
Best late-night snack: French fries.
The music I listen to most is: Indie artists. Dawn Richard is my favorite.
Something I love to do that most people would never imagine: I love watching movies with French subtitles.
A quote that inspires me: "All things are lessons that God would have me learn." — Iyanla Vanzant.
At the top of my "to-do" list: Travel to Toulouse, France.
The best thing my parents ever taught me: Laughter is an expression of love.
The person who influenced me the most: My mom.
Book that influenced me the most and how: "Acts of Faith: Meditations for People of Color" by Iyanla Vanzant.
Next goal: Save $5,000 and travel to Alaska with my mom.