Art meets dance in Carpenter Theatre ballet
Debora Timms | 3/2/2023, 6 p.m.

Expect to see art in a whole new way when the James River Valley Chapter of The Links brings Columbia City Ballet's "Off the Wall and Onto the Stage: Dancing the Art of Jonathan Green" to Richmond's Carpenter Theatre at Dominion Energy Center on March 10.
"We thought it would be an awesome opportunity to present to our community a ballet of this kind," James River Valley Chapter President Janipher Robinson said in a recent phone interview. "It's a very unique concept and an unusual ballet."
Created by Columbia City Ballet's Artistic Director William Starrett in 2005 as a tribute to renowned contemporary artist Jonathan Green, the ballet has been called "an ingenious idea" by the New York Times and a "soulful slice of work" by the Tampa Tribune.
Mr. Green's vibrant paintings depict Gullah life on South Carolina's Lowcountry coast.
The Gullah/Geechee people are descendants of enslaved Africans from west and central Africa. They were forced to work on plantations along the lower Atlantic coast that were often isolated from the mainland. Glimpses into the unique culture they created are represented in more than 1,700 works by Mr. Green.
The $1.2 million production uses choreography, dazzling costumes and a musical mix of jazz, gospel, classical, Caribbean and Motown to bring 22 of the artist's paintings to life on the stage.
The ballet's premier Richmond performance will include cameos from RVA singer, dancer and actress Desiree Roots and the Virginia Union University Choir.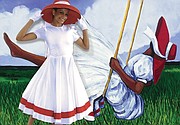 The 7:30 p.m. event will benefit The Links, one of the nation's oldest and largest volunteer service organizations. Money raised will go toward continuing the James River Valley chapter's STEM initiatives through Richmond Public Schools, its arts education program "Classics through the Ages" and a Virginia Union University scholarship endowment.
In addition, students from Richmond Public Schools will attend a 10 a.m. matinee performance of the ballet.
"It will be a great introduction into legitimate theater," Ms. Robinson said. "It will allow students to see a live performance — not a movie, but a live performance on the stage."
It also will reflect on parts of the chapter's mission to serve the Richmond community by making a difference in K-12 education and promoting the arts.
"We appreciate presenting the arts to our young children and to the community," Ms. Robinson said. "We want to put the emphasis on our school children because that's where the real impact is. That's the reason for the fundraiser itself."
Learn more about The Links by visiting www.jamesrivervalleylinks.org.
Tickets are available at www.dominionenergycenter.com.