Baldwin's skills, stamina, scoring work to VCU's advantage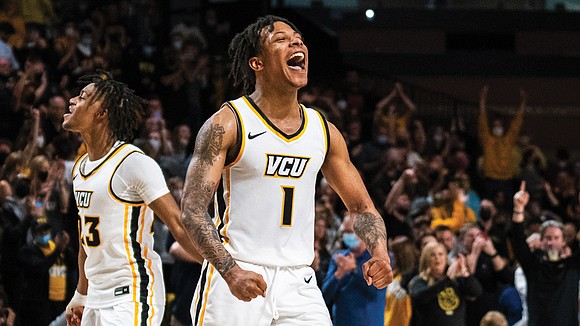 Adrian "Ace" Baldwin Jr. is merely the best player on the best team in the Atlantic 10.
The junior point guard from Baltimore came to VCU among the program's most decorated recruits (a 4-star), and he has yet to disappoint anyone.
Coach Mike Rhoades'Rams (22-7 overall, 13-3 in A-10) are closing in on the A-10's regular season title, and will be the clear favorite March 7-10 at the A-10 tournament at Barclays Center in Brooklyn.
A 6-foot lefthander, Baldwin leads VCU in scoring (12.9), as- sists (5.7), free-throw percent- age (81) and steals (2.5) while also adding 2.9 rebounds per.
He logs a team-high 34.7 minutes per game, a tribute not only to his skills but also to his stamina.
Baldwin was the man of the hour in the Rams' recent 73-58 win over the University of Richmond at the Siegel Center.
Dealing at both ends of the floor, the "Ace" had 18 points, eight assists, five rebounds, four steals and two blocked shots.
He was the difference as VCU pummeled the Spiders for a second time this season.
It's no one-man show. The Rams enjoy balanced scoring behind Baldwin, with Brandon Johns (11.7), Jalen Deloach (9.9), Jamir Watkins (9.2) and Jayden Nunn (9.2) not far behind.
Baldwin is the latest in a long line of outstanding VCU primary ball handlers. Other standouts over the decades have been Dave Edward, Keith Highsmith, Ed Sherod, Rolando Lamb, Kenny Harris, LaMar Taylor, Eric Maynor, Joey Rodriguez and JeQuan Lewis.
Baldwin, who appropriately wears jersey No. 1, may be as valuable to this current team as any of the others were to theirs'. That includes Sherod and Maynor, who went on to play in the NBA, and Rodriguez and Lamb, NCAA tournament stars.
The Rams finish their regular season Saturday (4:30) at George Washington. Then it's off to the Big Apple for the NCAA-qualifying A-10 event.
VCU likely will start Thursday, March 9, at 11:30 a.m. against the winner of the 8-9 seed play-in game.
With "Ace" the main man, the Rams could go a long way if they play their cards right.