Panthers lose CIAA tourney to Rams 45-44
VUU awaits NCAA II decision after lowest scoring game in annals
Heading north on I-95, it took Virginia Union University's bus about two hours and 35 minutes to reach Baltimore, site of the CIAA basketball tournament.
It probably felt like a lot longer coming back.
The wait now begins for the Panthers to whether they will continue in the NCAA Division II playoffs.
Denied the CIAA's automatic berth, Coach Jay Butler's highly deserving squad hopes for one of 41 at-large bids to the 64-team event.
"I think we're definitely in," said Coach Butler. "Our body of work speaks for itself."
Brackets will be revealed 11 p.m. Sunday, March 5, on NCAA.com. The Panthers, 23-7 and ranked fourth in last week's Atlantic Region poll, appears to be on solid footing for one of eight Regional berths (five being at-large).
It may help that Coach Butler is on the Regional Selection Committee that will determine the field. Also on the Committee is Coach Darrell Brooks from Bowie State, and two coaches each from the Mountain East and Pennsylvania conferences.
The Panthers were fourth in last week's Atlantic Region poll.
Still, nothing is guaranteed. VUU went the same 23-7 last year, lost in the CIAA finals and was denied a bid.
This go-round it was Winston-Salem State that played party pooper in Baltimore with a tense 45-44 win over the Panthers in the semifinals.
Robert Osborne had 18 points and Tajh Harding 17 points to account for 35 of the 44 points. It ranks with the lowest scoring games in CIAA tournament and VUU annals.
VUU may have been out of rhythm due to a change in game time. The contest was set for noon but changed to 2 p.m., likely to give Winston-Salem more recovery. The Rams had played until nearly midnight the night before.
"I didn't find out about it (tipoff change) until about 6 in the morning of game day," said Coach Butler.
VUU, the CIAA Northern Division champ and top seed for the tournament, took on a challenging non-conference schedule that should be respected by NCAA selectors.
The Panthers non-conference wins include Augusta (22-5 as of last weekend), Fairmont (21-6), Xavier (20-8), LeMoyne-Owen (18-9), Millersville (17-10), Shippensburg (17-10) and Shepherd (14-13). Augusta is the defending NCAA runner-up.
Also in the victory bag are two wins over last year's CIAA champ, Fayetteville State, and another pair over backyard rival Virginia State (No. 3 seed in Baltimore).
VUU won its opening quarterfinal, 75-64, over Elizabeth City with Osborne and Keleaf Tate each scoring 26 points.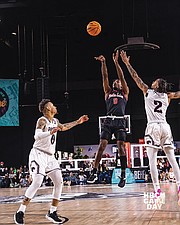 Winston-Salem went ahead of VUU in the semis on a jump shot by Samage Teel with 11 seconds left. On its final possession, Osborne drove and hit an open Devon Sims with a pass in the corner for a three-point attempt, but the shot banged off the rim and there was no time for a rebound.
While nothing has been finalized, there is a good chance that Indiana University of Pennsylvania (IUP) will host the Regional March 10-11 and 13. IUP is 27-1 ranked No. 1 in the Atlantic.
As CIAA champ, Winston-Salem will make the Regional bracket, likely as the eighth and final seed.
Indiana, Pa., is 316 miles from Richmond. Optimistically, the Panthers' bus is already warming up.