Kenny Brooks is Virginia Tech's first Black coach to win women's ACC crown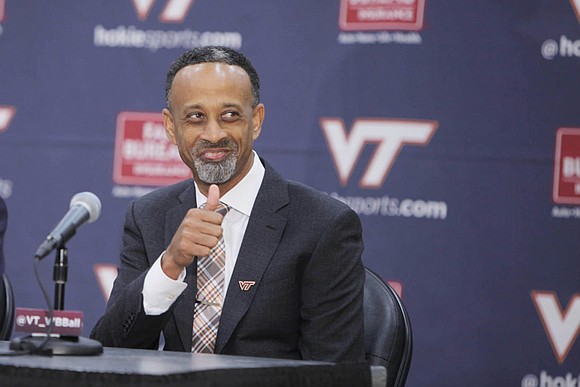 If the NCAA Women's Basketball Coach of the Year was announced today, Kenny Brooks might be a leading contender.
He would certainly be the No. 1 choice in Blacksburg.
The 54-year-old Virginia Tech coach recently became the first Black coach to direct his team to the ACC tournament title. It also marked Tech's first women's ACC crown.
Coach Brooks guided his Lady Hokies to a 27-4 mark that included a 75-67 win over Louisville in the ACC finals in Greensboro.
His Lady Hokies were to continue play this week in the NCAA Regionals on their home court, Cassell Coliseum.
Coach Brooks' success is nothing new. A native of Waynesboro, he has a com- bined 478-189 record at his alma mater, James Madison, 2002-2016, and at Tech since 2016.
Coach Brooks played three seasons under Coach Lefty Driesell at JMU, and is the cousin of another Waynesboro hoops
legend, Cory Alexander, who played in NBA.
Coach Brooks' two elder daughters, Kendyl and Chloe, played for him at Tech and the youngest, Gabby, was a senior this season for the Blacksburg high team.