Helen Harris, a leading voice for Henrico County's Black residents, remembered
'Her leadership and tireless advocacy made the county a more inclusive and equitable place'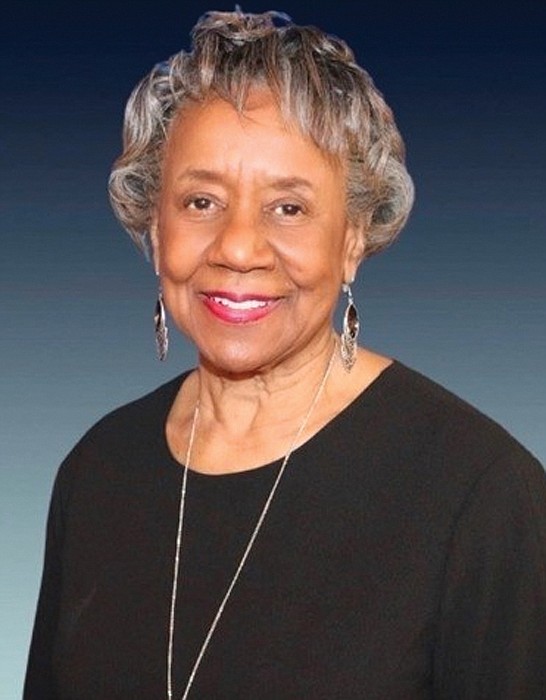 Thanks to Helen Virginia Epps Harris, Henrico County annually celebrates the holiday in honor of civil rights icon Dr. Martin Luther King Jr. and also has dramatically increased its hiring of Black employees.
Her impact on public policy is just part of the influence she wielded during a life that her family said was devoted to service to others and fueled by a desire to see Black people advance and thrive.
Mrs. Harris' multiple contributions to community betterment are being remembered following her death on Wednesday, March 15, 2023, at age 83.
Family and friends packed St. Peter Baptist Church in Glen Allen on Wednesday, March 22, to offer final tributes to the Richmond native who impacted lives of untold youths and adults during her three decades as a business teacher at Armstrong High School, as a Girl Scout leader and as a churchwoman.
While she never held or sought elective office, Mrs. Harris' sweet and kind disposition masked a steely determination and unyielding persistence on public policy issues.
County officials experienced that determination as she pushed for change in the county's treatment of its growing Black population.
"Her leadership and tireless advocacy made the county a more inclusive and equitable place," Fairfield District Supervisor Frank J. Thornton and County Manager John Vithoulkas wrote in a joint letter to the family.
A member of the civil rights generation, she became active in county political affairs after joining the Henrico Civic League.
Rising to become the league's first female president while also serving as volunteer coordinator of the Henrico County Leaders group, she is credited with directing the charge to get the balky county and its school system to recognize and close for the King holiday that was created at the federal level in 1983.
Refusing to accept that Black people could not be elected to county offices, she led the Civic League into becoming a plaintiff in a major voting rights lawsuit in the late 1980s. That suit led to the county's division into districts and the 1995 election of Mr. Thornton as the first Black member of the county's governing body, the board of supervisors, of which he continues to be a member and currently is board chairman.
Mrs. Harris' push to get the county to "address the lack of diversity in Henrico's workforce in the late 1980s also left a profound and lasting impact," the two men noted. "As a result, the percentage of minority employees has nearly doubled and the number of minorities holding leadership positions has grown exponentially."
In later years, Mrs. Harris served on the county's Board of Real Estate Review and Equalization, and on the county's Board of Zoning Appeals, which she twice chaired.
"No matter in what position she held or in which area she served, Ms. Harris was ready to uplift her community," the letter continued.
The daughter of the Rev. Andrew Clay and Helen Virginia Christian-Epps, Mrs. Harris grew up in Richmond. Along with being cheerleader at Armstrong High School and a member of Ebenezer Baptist Church's Girl Scout troop, Mrs. Harris became, at 16, the youngest person to pass the state's real estate exam and become a licensed agent in her father's real estate firm.
After graduation, she began her education career after graduating from Virginia Union University in 1961, later taking graduate courses at Virginia Commonwealth University.
After brief stints of teaching in Atlanta and at the Smith-Madden Business College in Richmond, she joined the Armstrong faculty where she taught for 31 years before her retirement in 1994.
Her family said she was known for her tenacious and passionate teaching style and the high expectations she set for students. "Do it right or don't do it at all" was among her favorite sayings. She was recognized with Teacher of the Year and Vocational Teacher of the Year awards during her tenure.
She later became the organizer and facilitator of the Save Our Public Schools organization in Henrico.
Mrs. Harris also founded Girl Scout troops at an Atlanta church and at Cedar Street Baptist Church of God, to which she belonged before she moved to Henrico and became a member of St. Peter Baptist.
She taught in St. Peter's Vacation Bible School, led classes for new members and also served as a deacon.
Her family said she created a ministry of "love taps" through which she called, sent cards, emailed and took other steps in seeking to maintain connections with members.
She also served for two years as director of healing for Great Commission Outreach Ministries in Richmond and also daily offered prayers for those she listed in her prayer book.
Mrs. Harris was a member of Delta Sigma Theta Sorority and Women of Wisdom Pinochle Club.
On any given night she could be found watching her favorite NBA team, college basketball team or NFL teams and comparing and reviewing plays with her grandsons.
She was a regular at VUU football and basketball games, as well.
Mrs. Harris earned family renown for her home cooking, scratch biscuits and fried chicken.
Her husband, Charles E. Harris, predeceased her. Survivors include her two children, Alaine H. Jackson and Dr. Emanuel C. Harris; her brother, Andrew C. Epps III; five grandchildren and a great-grandson.