Personality: Margaret Rose 'Meg' Medina
Spotlight on National Ambassador for Young People's Literature
3/23/2023, 6 p.m.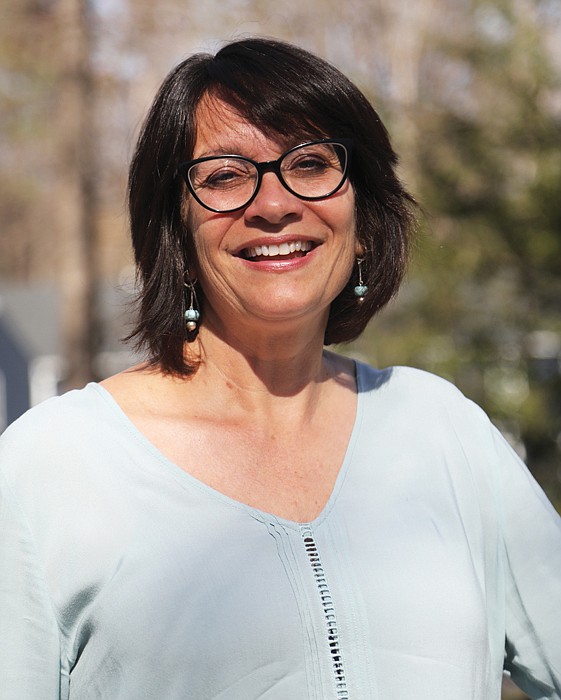 Amid ongoing campaigns against certain kinds of literature in the United States, Margaret Rose "Meg" Medina has been given a new platform and new responsibility to champion the value of the written word.
The Alexandria native and children's book author has been named the National Ambassador for Young People's Literature for 2023 and 2024. Ms. Medina is the first Latina author to be chosen for this role, and she has a clear vision and an awareness of the impact she stands to make for many young readers and writers.
"I know that I offer an example of a literary life for people whose histories, experiences, and world views are also shaped by other cultures," says Ms. Medina, when asked what being chosen as National Ambassador means. "I also offer a living example that pushes back against the many negative stereotypes of Latinos, such as being non-readers and being disinterested in learning."
While Ms. Medina's career in children's books began in 2008, her life before serves as a foundation for her career and new role. From more than a decade of teaching in New York and Florida, to work as a freelance journalist and at Simon & Schuster, she has built a wealth of experience with the literary world, writing and interacting with youths.
As National Ambassador, Ms. Medina will advocate for the worth of reading and writing to the nation's youths in a variety of physical and online spaces. Her journey, which will include visits to public librar- ies and social media outreach, seeks to provide tips and to encourage children to read, something she has particular experience with.
"When you work with young people, it always boils down to being engaging and respecting them as fully capable people,"
Ms. Medina says. "I come to them open-hearted and with enthusiasm to hear their thoughts on what they're reading and to offer them and their families new titles, new ways to connect with books, and new authors to discover."
That understanding of youth's as full people in their own right also informs Ms. Medina's criticism of efforts to restrict access to or outright ban certain books, which sees as not just a terrible approach to literature, but one that dismisses children and their intelligence.
Ms. Medina's body of literature, which covers topics ranging from bullying to illness, speaks volumes to how seriously she takes the inner lives and circumstances of her audience. She also celebrates the power of books outside her writing, including serving on the Advisory Board of We Need Diverse Books and a faculty member of the Masters in Fine Arts for Children's Writing program at Hamline University.
It's these roles, plus her ability to build connections and common ground, that Ms. Medina believes make her suited to serve as National Ambassador.
"I've moved through my author career as a steadfast advocate for the inclusion of many voices in library col- lections and bookstores," Ms. Medina says. "We are a country made of many people of different cultures and experiences, and I believe it serves us well to respect and include all those voices in our literature."
Meet an advocate for a nation of young readers and this week's Personality, Margaret R. Medina:
Most recent accomplishment: Named National Ambassador for Young People's Literature for 2023 and 2024.
Date and place of birth: June 1 in Alexandria.
Current residence: Henrico County.
Education: Bachelor's in communications, Queens College of the City University of New York; master's degree in educational leadership, Nova Southeastern University. Family: Husband, Javier Menendez; three grown children Cristina, Sandra and Alex Menendez.
Occupation: Children's book author.
My most acclaimed book and award: 2019 John D. Newbery Medal for "Merci Suárez Changes Gears."
Being the first author of Latina heritage to be chosen as an ambassador means: I am the ambassador for all children in this country, but for Latino children, in particular. I know that I offer an example of a literary life for people whose histories, experiences, and world views are also shaped by other cultures. I also offer a living example that pushes back against the many negative stereotypes of Latinos, such as being non-readers and being disinterested in learning.
How I got the big news: My publisher invited me to a Zoom call and when I opened the camera I found my entire Candlewick Press family waiting for me with the news.
Reaction: Honestly, it was tears because this is such an enormous honor in our field.
How is an ambassador selected: The Library of Congress, in partnership with Every Child a Reader, selects a nominating committee which puts forth candidates based on criteria for the role. For example, they look at the body of your work, your standing among your peers, and the kind of engagement you have with the wider children's book community. Ultimately, the finalists' names are given to the Librarian of Congress, Dr. Carla Hayden, who makes the final decision.
My responsibilities as an ambassador are: To support, promote, and affirm the reading lives of all the nation's children.
What is in my toolbox that I will use to engage young readers on my journey as ambassador: I'll loop in public libraries wherever I go because I believe them to be sacred spaces for our nation. And, of course, I'll unleash my social media platforms to help folks follow along on the ambassador journey and find tips on improving their reading and writing lives.
Why I became a young readers' author: It took a while of many trial and error careers, but the common thread in my work life was young people. It's rare when someone forgets the books they loved as children. Those books help raise us in a way, and I wanted to be part of that. Also, as an author, there is something about revisiting your childhood and trying to make sense of it that feels important to me.
My writing philosophy: Tell the truth.
Theme I touch on: The theme I return to again and again is family, growing up and culture. I'm endlessly fascinated by how those three parts of a young person's life mix and intersect, sometimes in the best ways and sometimes painfully.
Why reading is especially important today for young people: The obvious first-level benefit is that it makes everything easier for them in school. All subjects will require reading. But in the long game of life, reading is how we can learn about ourselves, about other people, and about the world. It gives us the power of knowing. It gives us enjoyment and escape. It gives us private time with our own thoughts and feelings.
Banning books is: Contrary to our values as a country. It's also the quickest way to alienate young people. The most powerful position we can take with regard to young people and books is to read them and discuss them together. When we create obstacles to their interests and questions, we communicate a distrust of their ability to read and form their own opinions.
Advice to aspiring writers for young readers: Read as widely as you can so that you have words in your head and examples of styles and approaches in your toolbox. Join your school's magazine or newspaper. Consider launching a podcast at your school to talk about what you're reading.
Biggest challenge facing young readers today: Making time for reading in their lives every day, especially when so many things competing for their time. Activities, their "screen" time, homework, jobs, family obligations. A regular reading life can happen, though. It just takes planning so that it becomes a natural habit and a part of your day.
The three words that best describe me: Sociable, organized, thoughtful.
How I unwind: A brisk 30-minute walk with my dog. Hugo.
Something I love to do that most people would never imagine: I wish I could say skydiving or something fabulous like that. But, it's just gardening. For a kid who grew up in Queens, New York, the idea of having a quiet place to plant things and make them grow feels like a dream.
At the top of my "to-do" list: Finish the fantasy novel I've been working on since 2010! I'm getting close to the end. The best thing my parents ever taught me: The value of sharing stories, especially family stories. It taught me that the lives of ordinary people are fascinating in their own way.
Book that influenced me the most: Years ago, I read Annie Lamott's "Bird by Bird." It was the first book about craft that I'd ever read, and it gave me my initial peek inside the world of people who tell stories for a living.
What I'm reading now: "How We Read Now," by Elaine Castillo, essays on reading, writing and culture. "Hoops" by Matt Taveras, a graphic novel.
Next goal: I would like to work on a couple of new picture books after I finish up my fantasy manuscript.