Can't stop dancing
NCAA's Final Four
Something missing here? For the first time since the NCAA basketball tournament began in 1939, there are zero No. 1 seeds remaining in the Final Four.
In fact, none of the projected top guns made it as far as the Elite Eight.
Here's how the leading lights went dark on the bracket sheet.
• Alabama was rolled by San Diego.
• Houston's last rodeo was a loss to Miami.
• Kansas got oinked by Arkansas Razorbacks.
• Purdue speared by Fairleigh-Dickinson's hyphen.
Furthermore, none of last year's Final Foursome (blue- bloods Kansas, North Carolina, Duke, Villanova) are back for an encore.
Meanwhile, the guitarists, organists and drummers continue to make music as the Big Dance shifts stages to Houston.
Here's a look at the last four kicking up their heels in the annual 68-team single elimination hoops gig.

Florida Atlantic Owls:
Location: Boca Raton, Fla.
Conference: Conference USA (will move to American Athletic next season)
Record: 35-3
Coach: Dusty May, fifth season
NCAA championships: none (FAU did not compete in basketball until 1988 and wasn't Division 1 until '93)
Road to Houston: NCAA wins over Memphis 66-65, Fairleigh-Dickinson 78-70, Tennessee 62-55, Kansas State 79-76.
Players to watch: Johnell Davis (13.9 scoring average); Alijah Martin (13.1); 7-foot-1 Russian Vladislav Goldin (10.3) Fun Fact: An Owls' assistant coach is Drew Williamson, a former assistant under Lonnie Blow at Virginia State; Williamson starred as a player at Old Dominion.
Vs.
Connecticut Huskies
Location: Storrs, Conn.
Conference: Big East
Record: 29-8
Coach: Dan Hurley, fifth season
NCAA championships: 1999, 2004, 2011 and 2014 Road to Houston: NCAA wins over Iona 87-63, St. Mary's 70-55, Arkansas 88-65 and Gonzaga 82-54.
Players to watch: 6-9 Adama Sanogo (17.1, from Mali); Jordan Hawkins (16.3), Tristan Newton (171 assists)
Fun Fact: UConn has sent some 38 players to the NBA, including 13 lottery picks. The only retired jersey number is Ray Allen's No. 34.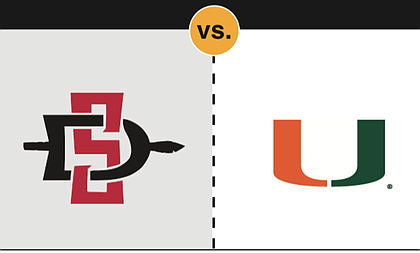 San Diego State Aztecs
Location: San Diego (with about 37,000 students and 300,000 alumni)
Record: 31-6
Coach: Brian Dutcher, sixth season
Conference: Western Athletic
NCAA championships: none
Road to Houston: NCAA wins over Charleston 63-57, Furman 75-52, Alabama 71-64 and Creighton 57-56.
Players to watch: Matt Bradley (12.5), Darrion Trammell (9.9), 6-10 Nate Mensah (62 blocked shots, from Ghana).
Fun fact: San Diego is alma mater of Tony Gwynn, best known for baseball. However, Gwynn played basketball, too, for the Aztecs, setting several records for assists and earning All-Conference honors.
Vs.
Miami Hurricanes
Location: Coral Gables, Fla.
Record: 29-7
Coach: Jim Larranaga, 12th season (guided George Mason to 2006 Final Four)
Road to Houston: NCAA wins over Drake 63-56, Indiana 85-69, Houston 89-75 and Texas 88-81.
Players to watch: Jordan Miller scored 27 points in Region final vs. Texas, hitting all seven field goal tries and all 13 free throws; Norchad Omier, from Nicaragua, averages 13.3 and Isaiah Wong 16.3.
Fun Fact: NBA great Rick Barry played at Miami 1962- '65 and led NCAA in scoring in '65, 37.4 points per game. Miami was independent at the time and on probation. Palm trees: It is fitting that Palm Sunday this year falls on April 2. Three of the four finalists (Miami, Florida Atlantic, San Diego) hail from palm tree locations.