Embiid receives long overdue MVP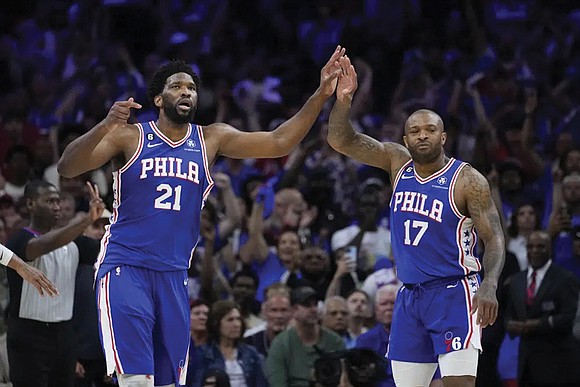 The NBA's Most Valuable Player trophy is back in Philadelphia.
The 76ers' Joe Embiid is this year's winner in a close race with Denver's Nikola Jokic, who had won the two previous MVPs with Embiid as runner-up.
Embiid, the league scoring champ, received 173 of 100 first place votes and 915 total points to Jokic's 674. Milwaukee's Giannis Antetokounmpo was third.
This is the fifth straight season in which an international player has been crowned MVP.
Antetokounmpo, from Greece, won in 2019 and 2020 and Serbian Jokic in 2021 and 2022.
Embiid was born in Cameroon and is a graduate of the Basketball Without Borders developmental program co-sponsored by the NBA and FIBA.
He became the NBA's second MVP to have been born in Africa. The first was Nigerian Hakeem Olajuwon in 1994 with Houston.
In helping the Sixers to a 54-28 regular season record, Embiid averaged 33.1 points, 10.2 rebounds, 4.2 assists and 1.7 blocked shots. The 7-footer hit 54% of his field goal tries, including 33% beyond the arc.
Sixers' previous MVP winners were Wilt Chamberlain in 1966, 1967 and 1968, Julius Erving in 1981, Moses Malone in 1983 and Allen Iverson in 2001.
The MVP is based on regular season play only.