Jean Allen Eggleston remembered for her substance and style
Debora Timms | 5/11/2023, 6 p.m.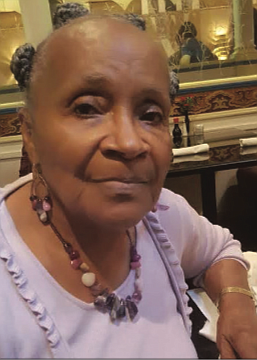 Jean Allen Eggleston, a lifelong Richmonder, died on Monday, May 1, 2023, at the age of 89. She will be remembered as loving and supportive to her family, a loyal friend, a kind teacher and a fashionista.
"That is the one thing that always gets mentioned after saying what a good person she was – her love of clothes and fashion," her son, Neverett A. Eggleston III said earlier this week by telephone.
The truth of that can be seen in the comments posted in the online guest book at Scott's Funeral Home, where more than one former student fondly remembered their stylish math teacher and her shoes.
Mr. Eggleston says his mother related her wardrobe choices to her early days of teaching. She attended Virginia State University, graduated from Virginia Union University and did her student teaching at James H. Blackwell Elementary School.
"All the teachers dressed up," he recalls her saying. "When integration happened, she saw the white teachers didn't dress up. They wore leisure clothes, which she wasn't used to. My mother kept with what she knew. She always dressed for school."
Mrs. Eggleston's career as a teacher spanned from the 1950s to her retirement in 1995. In addition to Blackwell, she also taught at Randolph School and John Marshall High School.
Growing up, Mrs. Eggleston lived with her grandmother on Allen Avenue in the West End and met her future husband, Neverett
A. Eggleston, Jr., in the ninth grade. The high school sweethearts married in 1957 and had two children together – their son Neverett, and daughter Jayne J. Eggleston-Vann. She took pride in being involved and supportive in their lives.
"I don't think I could have asked for a more loving and supportive mother," her son said. "Being a loyal friend meant a lot to her as well."
Mr. Eggleston said his mother was hit hard by the recent deaths of two very close friends, her sister-in-law Jane Douglas and Gail
Fitchett. She took comfort in the sisterhood she had with other dear friends, Margaret Lawrence, his godmother Claudette Martin, and Bernetta Washington – known affectionately as "Peanut."
Her other passions involved her church and her garden. Mrs. Eggleston was a dedicated member of Wesley Memorial United Methodist Church and an avid gardener.
"She loved to have her hands in the dirt. She could do it for hours and hours," Mr. Eggleston said. "Even in her last days, she still wanted to get out there. She had a real love of the earth."
Jean Allen Eggleston is survived by her husband, son and daughter, brother-in-law Judge Willard Douglas, four grandchildren – Eunique Davis, Sojourner Eggleston, Enyah Eggleston and Ashley Eggleston, and two great-grandchildren, Preston Eggleston and Nylah Eggleston.
Funeral services will be held 1:30 p.m. Thursday, May 11, at Wesley Memorial United Methodist Church, 1720 Mechanicsville Turnpike.