Jury finds Trump liable for sexual abuse
Larry Neumeister, Jennifer Peltz and Michael R. Sisak/The Associated Press | 5/11/2023, 6 p.m.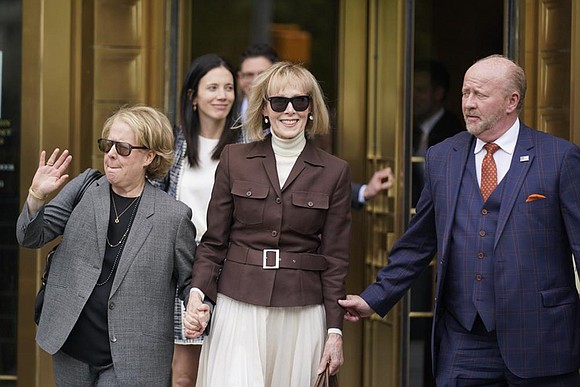 NEW YORK - A jury found Donald Trump liable Tuesday for sexually abusing advice columnist E. Jean Carroll in 1996, awarding her $5 million in a judgment that could haunt the former president as he campaigns to regain the White House.
The verdict was split: Jurors rejected Ms. Carroll's claim that she was raped, finding Mr. Trump responsible for a lesser degree of sexual abuse. The judgment adds to Mr. Trump's legal woes and offers vindication to Ms. Carroll, whose allegations had been mocked and dismissed by Mr. Trump for years.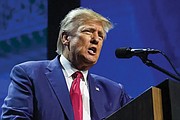 She nodded as the verdict was announced in a New York federal courtroom only three hours after deliberations had begun, then hugged supporters and smiled through tears. As the courtroom cleared, Ms. Carroll could be heard laughing and crying. Jurors also found Mr. Trump liable for defaming Ms. Carroll over her allegations. Mr. Trump did not attend the civil trial and was absent when the verdict was read. Mr. Trump immediately lashed out on his social media site, claiming that he does not know Ms. Carroll and referring to the verdict as "a disgrace" and "a continuation of the greatest witch hunt of all time." He promised to appeal.
Mr. Trump's lawyer, Joseph Tacopina, shook hands with Ms. Carroll and hugged her lawyer, Roberta Kaplan, after the verdict was announced. Outside the courthouse, he told reporters the jury's rejection of the rape claim while finding Trump responsible for sexual abuse was "perplexing" and "strange."
"Part of me was obviously very happy that Donald Trump was not branded a rapist," he said.
He defended Mr. Trump's absence, citing the trial's "circus atmosphere." He said having Mr. Trump there "would be more of a circus."
It was unclear what, if any, implications the verdict would have on Mr. Trump's third presidential bid. He's in a commanding position among GOP contenders and has faced few political consequences in the wake of previous controversies, ranging from the vulgar "Access Hollywood" tape to his New York criminal indictment. His GOP rivals were mostly silent after the verdict, a sign of their reluctance to cross Trump supporters who are critical to winning the presidential nomination. Former Arkansas Gov. Asa Hutchinson, one of the few vocal Trump critics in the race, said the verdict was "another example of the indefensible behavior of Donald Trump."
Ms. Carroll was one of more than a dozen women who have accused Trump of sexual assault or harassment. She went public in a 2019 memoir with her allegation that the Republican raped her in the dressing room of a posh Manhattan department store.
Mr. Trump, 76, denied it, saying he never encountered Ms.Carroll at the store and did not know her. He has called her a "nut job" who invented "a fraudulent and false story" to sell a memoir.
Ms. Carroll, 79, sought unspecified damages, plus a retraction of what she said were Mr. Trump's defamatory denials of her claims.
Jurors also heard from Jessica Leeds, a former stockbroker who testified that Mr. Trump abruptly groped her against her will on an airline flight in the 1970s, and from Natasha Stoynoff, a writer who said Mr. Trump forcibly kissed her against her will while she was interviewing him for a 2005 article.
The six-man, three-woman jury also saw the well-known 2005 "Access Hollywood" hot-mic recording of Mr.Trump talking about kissing and grabbing women without asking.
The verdict comes as Mr. Trump faces an accelerating swirl of legal risks.
He's fighting a New York criminal case related to hush money payments made to a porn actor. The state attorney general has sued him, his family and his business over alleged financial wrongdoing.
Mr. Trump is also contending with investigations into his possible mishandling of classified documents, his actions after the 2020 election and his activities during the insurrection at the U.S. Capitol on Jan. 6, 2021. Mr. Trump denies wrongdoing in all of those matters.
The jury awarded Ms. Carroll $2 million for Mr. Trump's sexual abuse and $20,000 in punitive damages. For defamation, jurors awarded $1 million for Mr. Trump's October statement, another $1.7 million for harm to Ms. Carroll's reputation and $280,000 in punitive damages.