Alexandria High School diversity program passes test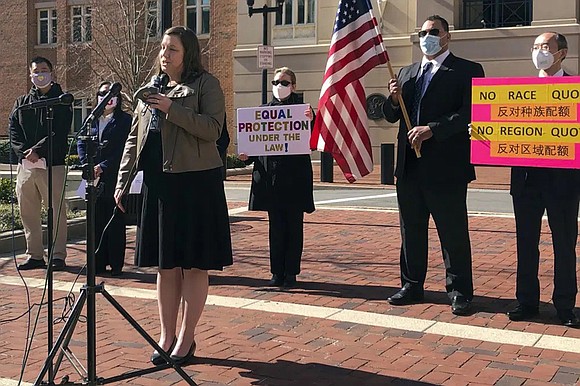 One of the state's best high schools has won a court case this week over a revamp of its admission process to increase enrollment of Black and Latino students.
The U.S. 4th District Court of Appeals issued the finding in a split 2-1 decision on Tuesday upholding controversial changes to admissions policies for nationally ranked Thomas Jefferson High School for Science and Technology in Alexandria.
The ruling, rejecting claims from Asian-American parents claiming the policies discriminated against their children, has drawn wide attention from civil rights groups, educators and state governments facing similar questions of fairness in admissions.
Although it is expected to be appealed to the full appeals court or the U.S. Supreme Court, the decision could prove influential for similar schools such as the Maggie L. Walker Governor's School in Richmond in its attempts to diversify enrollment.
The Fairfax School Board approved the admissions changes in late 2020, and the changes first impacted student admis- sions in 2021.
Prior to the admission changes, Asian-American students constituted at least 70 percent of the students enrolled, according to data from the Fairfax board. After the new admissions policy went into effect, Asian-American students comprised about 54 percent of a student body that numbers more than 900, the data show, while Black student numbers increased from less than one-tenth of one percent to 7 percent and Latino student numbers tripled to 11 percent. Writing for the majority, Judge King found the Asian-American parents organized as the Coalition for TJ failed to make the case that the new admission's approach was illegally designed to reduce enrollment of their high-achieving children who have long been the dominant ethnic group at the school.
"After consideration of the record and the contentions," he wrote, "we are satisfied that the challenged admissions policy does not disparately impactAsian-American students and that the Coalition cannot establish that the Board adopted its race-neutral policy with any discriminatory intent."
Essentially, the school board, in trying to diversify the student body while being race-neutral, set up a general admissions policy then allowed each of its 28 middle schools to select a share of students under that policy, with 100 seats left for county-wide competition under the policy criteria.
The new approach scrapped selection of students for Thomas Jefferson based on results on a standardized test on which Asian-Americans had generally excelled.
The county board installed the new policies under pressure from the state, which during Gov. Ralph S. Northam's tenure was scrutinizing the lack of diversity in admissions at all of the 19 public Governor's schools, including Thomas Jefferson and Maggie Walker.