Park dedication provides lasting legacy for Markiya Dickson
Debora Timms | 5/25/2023, 6 p.m.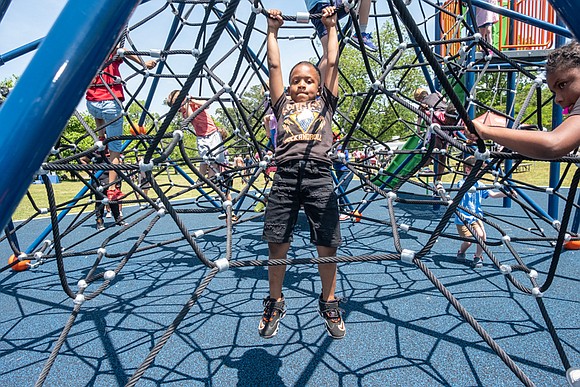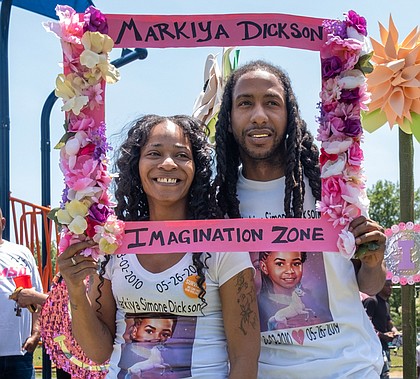 For Ciara Dickson and Mark Whitfield Sr., Saturday, May 20, was filled with mixed emotions. They were in Fonticello Park for the dedication of the Markiya Dickson Imagination Zone, which recently was installed in honor of their deceased daughter.
Nine-year-old Markiya was shot in the park, then known as Carter Jones Park, during a community Memorial Day cookout in 2019. She later died at a hospital. An 11-year-old boy and man also were wounded by gunfire.
Three men were convicted in relation to the shooting that took Markiya's life. Jesus Turner, convicted of first degree murder, malicious wounding and gun charges, was sentenced to 33 years in prison in Octo- ber 2021. Jermaine Davis and QuinshawnBetts, who were convicted of charges including second degree murder, were sentenced to 33 years and 22 years separately.
In a telephone interview on May 24, Markiya's mother said the family's healing process has been "an emotional roller coaster" filled with highs and lows.
"We have to take it day by day because it's hard," Ms. Dickson said. "We'll never get past it or get over it, so we're living through it. We're learning how to cope with it."
Mr. Whitfield agreed.
"It's hard to sit and think about my baby," Mr. Whitfield added. "I always wonder about how she'd be doing or what she'd be doing."
Attending the dedication ceremony was full of ups and downs as well.
"It was a lot of emotions," Ms. Dickson said. "I was happy that they honored her in that way, but then it's kind of like we shouldn't even be out here at all for this because my child should still be here."
As they opened up with memories of Markiya — the stories she made up, songs she wrote and recorded, her love for sister, Samaya, and
brother, Mark Jr., her parents' voices were filled with pride and love for the daughter they miss every day.
The creation of the play space was a collaboration be- tween family and city leaders. Her parents say its naming will mean that their daughter — a little girl who loved butterflies, singing and dancing, and who believed unicorns were real — will have her name live on in the community.
During the dedication, Councilwoman Stephanie Lynch said the playground was a "symbol of this community coming together, a symbol of friendship, of adventure, of imagination, of a world without hate."
Mr. Whitfield said that it embodies the child his daughter was. He said the family's vision for the park was one where people can go and have fun, but he wanted it done "the Markiya way — with compassion and caring for people because she was selfless like that."
Ms. Dickson added that the main goal was a space where kids could play together out of harm's way, and she believes that Markiya would have loved the playground that bears her name.
"I feel like she was out there with us in spirit."