Personality: Lok Lam
Spotlight on Neighborhood Resource Center's board president
5/25/2023, 6 p.m.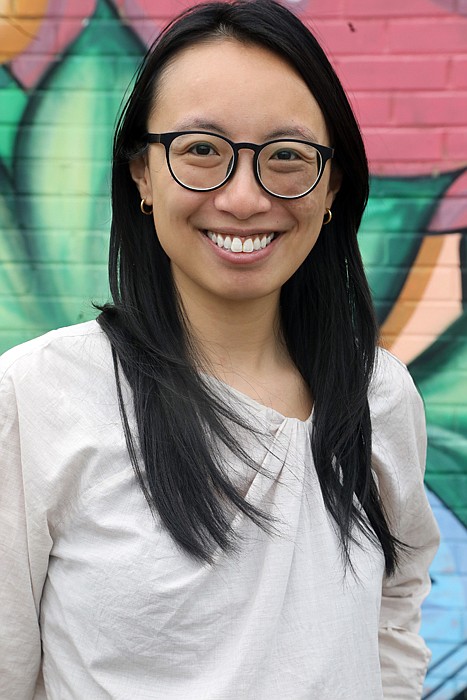 Lok Lam's passion for a community's welfare is clear from her work with the Neighborhood Resource Center of Greater Fulton since she became board president last October.
"You can be in these roles, without being an older person or very professionally accomplished," Ms. Lam, who is in her mid-30s, says. "Anyone can do these things, if you're passionate about something."
Ms. Lam began working with NRC Fulton in 2020, at the height of the COVID-19 pandemic. She was struck by the institutional failures that the disease and the systemic response highlighted locally, nationally and globally. She ultimately decided to address such issues in her own way.
"I thought a lot about how my friends and family and people I don't know in Richmond, around the country, and around the world were doing," Ms. Lam says. She also spent time thinking about "how the pandemic exposed the ways that governments and institutions deny people their right to live in dignity."
Ms. Lam was encouraged to reach out to NRC Fulton by friends who volunteered with the nonprofit organization, which works to improve the lives of more than 500 families through education, employment and nutrition programs.
Ms. Lam was a volunteer with NRC Fulton before joining its board of directors in 2021. Today, she helps shape the group's advocacy as evictions and rent increases displace many of Richmond's underserved citizens.
"As the socioeconomic make-up of Greater Fulton changes, many former residents who may benefit from our programming have been pushed east and we want to reach them," Ms. Lam says, adding that community members in east Henrico County face a lot of the same issues."
As board president, Ms. Lam is leading NRC Fulton amid a three-year strategic plan centered on expanding the group's geographic reach, donors and partnerships. This growth will allow NRC Fulton to provide support to its staff and the community.
A focus on expansion led Ms. Lam to accept the role of board president, and she is intent on seeing the group grow and diversify during her two-year term.
This diversity would extend not just to funding and resources, but also to its leadership and area representation, ensuring that a "diversity of experiences" in terms of race, gender, wealth and more are helping to guide NRC Fulton's decisions.
"That's really important for us," Ms. Lam says, "to make sure that, strategically and operationally, what we're doing is deeply informed by our communities and we actually are all in it together."
Ms. Lam's work with NRC Fulton comes with an awareness that it can't directly change the systemic issues that affect the community. But it can help reduce the harm that often results from such issues.
"I would like, if someone were to read this, to think 'this person is young and like me and can still do this stuff'," Ms. Lam says. "I hope it inspires people to join us or find something that they're really passionate about and use that time to improve Richmond or society in some way."
Meet a leader in community aid and improvement and this week's Personality, Lok Lam:
Volunteer position: Board president, Neighborhood Resource Center of Greater Fulton.
Occupation: Corporate restructuring consultant.
Place of birth: Hong Kong.
Where I live now: Richmond.
Education: Bachelor's and master's in finance from Tulane University.
Family: My partner, cat, our neighbors in our "block family."
Neighborhood Resource Center of Greater Fulton is: Neighborhood Resource Center of Greater Fulton, or NRC Fulton, is a 501(c)(3) nonprofit arts and cultural education center in Greater Fulton in Richmond's East End. Our mission is to build relationships, share resources and develop skills to enhance lives in Greater Fulton and Eastern Henrico County through our core programs of education, nutrition, employment, and community organizing. Our motto is: "We are all connected."
Location: 1519 Williamsburg Road, Richmond.
When and why founded: NRC Fulton was founded in 2002 by Greater Fulton neighbors and non-neighbor volunteers to create a place where its programs would help to remove barriers to education and income in the community. The community of Greater Fulton is one of Richmond's neighborhoods that has been most impacted by decades of disinvestment. Lack of access to resources translates into lack of stability for families. According to the 2020 U.S. Census, it's estimated that 40% of our neighbors in Greater Fulton are considered to be living below the poverty level.
Founder: Mary Lou Decossaux.
Who does the Neighborhood Resource Center of Greater Fulton serve: Community members living in Greater Fulton and Eastern Henrico County.
No. 1 goal or project as board president: Our top priorities are to increase and diversify our funding so that we have the resources to support more community members, and to compensate our staff commensurate to the value of their work and the increasing cost of living.
Strategy for achieving goals: Our three-year strategic plan boils down to growing our donor pool and relationships, expanding our geographic reach while growing and deepening our partnerships to provide resources to the community, and ensuring that we deeply support our staff and the communities we serve.
No. 1 challenge facing the Neighborhood Resource Center of Greater Fulton: As a nonprofit, the Neighborhood Resource Center of Greater Fulton cannot fix the systems that create the inequality that disproportionately impacts the families that we serve. We recognize this limitation and work very hard to reduce the harm that exists as a result of systematic disinvestment. We also are engaged in addressing the root causes of violence and we believe that forms of violence include a lack of affordable housing, food, and other basic resources that help families thrive.
How the Neighborhood Resource Center of Greater Fulton makes a difference: In March, we worked with a nonprofit called RIP Medical Debt to cancel $3.4 million of medical debt for thousands of people in Richmond, Petersburg, and surrounding counties. We raised $19,552 dollars to be able to abolish this debt. In the first quarter of this year, our NRC WORKS members have made incredible strides toward financial freedom – they have achieved on average: $7,715 net worth increase, $10,189 debt reduction, and $1,404 net income increase. In addition, our members have avoided evictions and foreclosures, and credits scores have increased 184 points on average.
The Neighborhood Resource Center of Greater Fulton partners with: Our motto is "We are all connected" and we believe that our relationship with partner organizations is crucial as we serve our members. Over the last few years, we've worked closely with staff from Housing Opportunities Made Equal (HOME), Central Virginia Legal Aid Society, Legal Aid Justice Center, Virginia Poverty Law Center, Shalom Farms, the Daily Planet, and Henrico County government.
Upcoming events: We're hosting an event in June for donors and friends of NRC Fulton where we will share our strategic plan – follow us on Instagram @nrc-fulton and Facebook "Neighborhood Resource Center of Greater Fulton" to stay up to date!
How I start the day: Coffee on my porch, pet my cat, and get to work.
The three words that best describe me: I surveyed my friends and they said: savvy, engaged, well-traveled.
If I had 10 extra minutes in the day: I would sleep more.
Best late-night snack: Cup of noodles, seaweed, chips.
The music artists I listen to most is: Bill Callahan and David Berman.
Something I love to do that most people would never imagine: Watching "Love Island UK" and dissecting it with my friends in Sweden.
At the top of my "to-do" list: Set up my peer-to-peer fundraising page for our new campaign at NRC Fulton.
The best thing my parents ever taught me: Put yourself in someone else's shoes.
The person who influenced me the most: My mother.
Book that influenced me the most: I don't have just one, but the most fun I had in 2021 was reading "Dune," then "Dune Messiah" by Frank Herbert. My favorite part of the series is when Duncan Idaho climbs a wall.
What I'm reading now: "The Dispossessed" by Ursula K. Le Guin. "The bond that binds us is beyond choice. We are brothers. We are brothers in what we share. In pain, which each of us must suffer alone, in hunger, in poverty, in hope, we know our brotherhood. We know it, because we have had to learn it. We know that there is no help for us but from one another, that no hand will save us if we do not reach out our hand. And the hand that you reach out is empty, as mine is. You have nothing. You possess nothing. You own nothing. You are free. All you have is what you are, and what you give."
Next goal: Our next goal is to preserve and secure housing for our members. We have a new fundraiser — our goal is to raise $25,000 by June 30 to help 25 families preserve or acquire housing. We're hoping to sign up recurring donors to support our efforts, so please visit our website at nrccafe.org to join us!