Personality: Tyee Davenport Mallory
Spotlight on Richmond Section of the National Council of Negro Women president
11/2/2023, 6 p.m.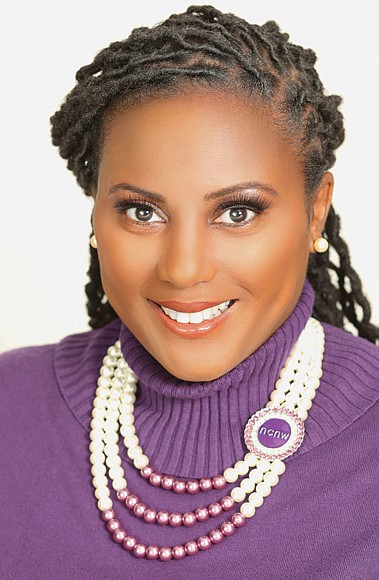 Tyee Davenport Mallory is helping to show the worth of women's organizations.
As president of the Richmond Section of the National Council of Negro Women, Ms. Mallory has worked to expand the nonprofit's presence and mission through new partnerships and increased membership.
She's also worked to bring new energy to the nearly 90-year-old organization dedicated to empowering African-American women, their families and communities.
"We're just kind of reintroducing ourselves to the community," says Ms. Mallory, who was elected president in April 2022. "We want to make people know the NCNW is alive, we are well, we are vibrant, we are growing and we are still relevant in the community."
An ongoing aspect of NCNW's vision and mission in the Richmond area includes supporting programs such as RVA Reads, FeedMore, the Pregnancy Resource Center, Diversity Richmond and Sisters Network. Such social outreach is key to Ms. Mallory's goals as president and a mother.
A freelance consultant who has worked with political campaigns, nonprofits and advocacy groups for two years, she decided to strike out on her own after working on campaigns for Congresswoman Jennifer L. McClellan and U.S. Sen. Tim Kaine.
Ms. Mallory says that giving her children a positive example to follow and a lasting legacy through her actions are important. She credits her own experience with the NAACP, the National Coalition of 100 Black Women and work as a Girl Scout troop leader as leading her to her current path.
"When I had my daughters, I became committed to making sure that I dedicated my time to women's organizations," Ms. Mallory says, "because I wanted to be an example for them and show why Black women's public service is important. I want to be able to leave a legacy for them from Black women's organizations."
That desire and her appreciation for civil rights groups led Ms. Mallory to join NCNW Richmond in 2020, initially as a volunteer.
As a longtime admirer of former NCNW President and Richmond native Dr. Dorothy Irene Height, Ms. Mallory was happy to contribute.
In addition to leading NCNW, Dr. Height also was a civil rights activist and the 10th national president of Delta Sigma Theta Sorority.
And when NCNW Richmond's previous president, Martha E. Hancock-Carter, asked Ms. Mallory to take on a leadership role in the nonprofit, she was more than ready for the responsibility.
"I did not hesitate," says Ms. Mallory about her choice to become president. "I hit the ground running and I have been going ever since."
NCNW Richmond's efforts coincide with a larger push to revitalize the national organization, and have proven to be successful according to Ms. Mallory, with 60 financial members currently in the Richmond Section and more joining each month.
Ms. Mallory sees this recent expansion in outreach as necessary for NCNW Richmond and the national organization's future. She believes the generational gap is a big challenge NCNW and other civil rights groups currently face, and one she and others work to address by creating roles and spaces for young members to contribute to their operations.
"Legacy organizations struggle in appealing to younger generations," Ms. Mallory says. "So, we have to
show why we are relevant in the community and showcase all that we have to offer to Black women interested in strengthening their communities through sisterhood."
Ms. Mallory plans to continue her time as president into a second term, with a long-term goal of stabilizing membership. Although the work involved in NCNW Richmond can be consuming and sizable, she is steadfast in her commitment to the group and the value it brings to the Richmond area.
"You do a little bit of social work and project management and leadership all at the same time," Ms. Mallory said. "I'm an all-in president and I take the job seriously."
"I wouldn't have taken it if I didn't want to commit all and all to it."
Meet a tireless women's advocate and community leader and this week's Personality, Tyee Davenport Mallory:
Volunteer position: President, Richmond Section of the National Council of Negro Women.
Occupation: Political adviser and advocacy consultant.
Date and place of birth: April 3 in Gloucester County.
Where I live now: Glen Allen.
Education: Bachelor's in marketing management, Virginia Tech; MBA, Strayer University.
Family: Husband, Mark, daughters Zuri and Nyla.
National Council of Negro Women is: An "organization of organizations," comprised of 330 campus and community-based sections and 33 national women's organizations that enlightens, inspires, and connects more than 2,000,000 women and men.
Founder: It was founded in 1935 by Dr. Mary McLeod Bethune, an influential educator and activist.
National headquarters: Washington , D.C.
When NCNW Richmond Section was founded: Nov. 6 , 1956.
Richmond founders: Mrs. Ora Stokes, Mrs. Bernice Sampson, Mrs. Laura Jackson Hall, Mrs. Rosa Meade, Mrs. Luvinia Banks, Mrs. Marian Bell Saunders Richardson, Mrs. Susie Williams, and Mrs. Doris Ford.
Membership requirements: Women of African descent who reside in the Greater Richmond area with a passion for strengthening their communities and sisterly fellowship.
How I became involved: Dr. Height has always been a personal SHERO of mine and I have a lot of love for legacy civil rights organizations. I joined the Richmond Section in 2020 at the beginning of the pandemic. Over the course of the next two years, I gained an admiration and commitment for the organization and its rich history.
Why I accepted the position as president: I was elected president in April 2022 and my term began October 2022.
Length of term: 2022-2024.
No. 1 goal or project as president: Increase membership, increase name recognition in the Richmond area and increase community partnerships.
Strategy for achieving goals: Engage in new spaces and partnerships in the community, widening our footprint.
Ways to participate with NCNW Richmond Section: After joining, members are encouraged to join one of our many committees such as RVA Reads, Social Justice, Young Adults or Good Health WINS (our vaccination education campaign).
Upcoming events: 2023 Harambe Celebration – Nov. 16, 5:30 p.m. at Trinity Baptist Church on Fendall Avenue with keynote speaker the Rev. Shavon Arline-Bradley, president and CEO of the National Council of Negro Women. Harambe (meaning "all come together" in Swahili) is our annual membership recruitment event where we showcase the programs and work of NCNW-Richmond. African/ancestral attire is encouraged but not required. This event is free and open to the public.
How I start the day: Our family wakes up between 6 and 6:30 each morning and we prepare for the day together.
The three words that best describe me: Grateful. Intentional. Driven.
If I had 10 extra minutes in the day: I would meditate.
My dream dinner party special guest would be: My grandmothers, both of whom died before I was born. I just want to look into their faces.
Best late-night snack: Cheese and crackers.
The music I listen to most is: '90s R&B.
Something I love to do that most people would never imagine: As a former high school drum major, I love watching marching band performances of all levels—high school, college and professional drum corps.
A quote that inspires me: "I can do all things through Christ which strengthens me."
Philippians 4:13
At the top of my "to-do" list: Home renovation projects.
The best thing my parents ever taught me: Steady wins the race. No need to rush.
The person who influenced me: My great-grandmother Marie Gray Keyser. She loved
her entire family unconditionally.
Book that influenced me the most: "Open Wide the Freedom Gates" by Dr. Dorothy Irene Height. This book really is a textbook for public service, personal sacrifice and visionary leadership for the greater good. That's the leader I want to be.
What I'm reading now: "Caste" by Isabel Wilkerson. I will admit, it has taken me over a year to finish this book. It's so emotional that I can only absorb it in small doses. It's so heavy.
Next goal: Continue to expand the mission and vision of NCNW in the Richmond area.