Tyreek Williams is VSU's newest baller
Fred Jeter | 11/2/2023, 1:25 a.m.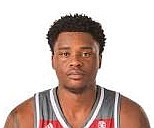 Virginia State basketball Coach Lonnie Blow is looking for new stars and Tyreek Williams has raised his hand to volunteer.
Williams made his Trojans debut Oct. 25 with 10 points in VSU's 80-59 exhibition loss at Division I Old Dominion.
Coach Blow's squad will play its official opener Nov. 4 at the Multi-Purpose Center against invading Division III Averett of Danville. Tipoff is 4 p.m.
At ODU, Coach Blow played a total of 15 players, with 12 getting at least 10 minutes of court time.
The Trojans, 17-11 a season ago, must replace two prolific scorers, Terrence Hunter-Whitfield (18 points per game) and B.J. Fitzgerald (15.4)
Williams figures to help. The 6-foot-9, 250-pound post player starred at L.C. Bird High in Chester before spending one season each at Troy, Ala., and Catawba, N.C.
Returnee Tremere Brown had 10 points and seven rebounds at ODU and newcomer Chris Hampton chipped in five points, four rebounds and two assists.
Hampton is a 6-foot-2 junior transfer from Tallahassee, Fla., Community College.