Spurs' 'Wemby' grabs attention
Fred Jeter | 11/3/2023, 1:07 a.m.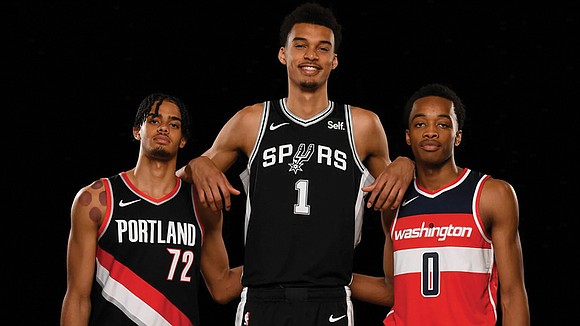 "Wembymania" is sweeping the nation.
The NBA opened is 78th season last week with all eyes on intriguing 7-foot-3, 19-year-old Victor Wembanyama, aka "Wemby."
Drafted first overall by San Antonio, the Frenchman may be the most talked-about newcomer since Wilt Chamberlain
1959, Kareem Abdul-Jabbar in 1969 and LeBron James in 2003.
"It's pretty crazy what he does on the court," said Dallas' Luka Doncic, the 2019 Rookie of Year. "The things he does for his length; it's unbelievable the way he moves.
"He is an amazing player."
The prized rookie, who combines size, skill athleticism like few others in history, will make $12.2 million this season and a total of $55.2 million for a contract ending in 2027.
In five preseason games, "Wemby" averaged 20 points, five rebounds and three blocks in around 21 minutes per night.
In his first official game, "Wemby" had 15 points (hitting three of six 3-balls), five rebounds and one block in the Spurs' 126-119 loss. In 23 minutes, he also had five turnovers and five fouls.
Two nights later he had 21 points and 12 rebounds in 31 minutes in the Spurs' 126-122 overtime win over Houston.
Both games in south Texas drew packed houses of 18,418 at Frost Bank Center as well as national ESPN audiences.
Wearing jersey No. 1, the towering Frenchman has been the premier attraction wherever he played, starting with the pro league in his native France.
"It's an exciting time," said Spurs' Coach Gregg Popovich.
To the pleasure of ticket buyers, he's already stated he plans to play all 82 games if health allows. Only 10 players a year ago appeared in all 82.
Most stars take nights off.
The Spurs have had just two previous overall No. 1 picks, and they turned out to be historically great ones – David Robinson in 1987 and Tim Duncan in 1997. San Antonio won five NBA titles with the pair.
---
Small world: This season's NBA opening-night rosters included a record 125 international players (born outside the U.S.) representing 40 nations.
Canada has produced 26 NBA players with France second at 14. Then comes Australia (nine), Serbia (seven), Germany (six) and Nigeria and Turkey with five each.
The last three MVP's have been international – Nicola Jokic of Serbia in 2021 and 2022, and Philadelphia's Joel Embiid (Cameroon) last season.
A year ago, Duke's Paolo Banchero (Italian) was the first overall draft pick and rookie of the year for Portland.
Wembanyama would like to follow his lead.
Price is right: Again, Golden State's Steph Curry is the NBA's highest paid player with a $51.9 million deal this season.
He is followed by Jokic, James, Embiid ($47.6 million) and Brad Beal (all at $46.7 million), then Kevin Durant, Paul George, Giannis Antetokounmpo, Damian Lillard and Kawhi Leonard (all $45.6 million).
Former University of Virginia standout Joe Harris is Detroit's top-paid player with an $18.8 million salary.
Bones Hyland, the former VCU star, has a third-year salary of $2.7 million with the L.A. Clippers.
It's a marathon not a sprint: The 82-game, 2023-24 regular season runs from Oct. 24 to April 19. The playoff Finals are set for June 6-23.
The NBA All-Star Game will be Feb. 18 in Indianapolis.
Repeat after me: Denver won last year's Finals, ousting Miami, four wins to one, with Jokic MVP.
The last repeat champ was the Warriors in 2017 and 2018.
San Antonio has won NBA titles in 1999, 2003, 2005, 2007 and 2014.
If "Wemby" is as good as some think, that list could grow.