VUU sports information director creates a top internet podcast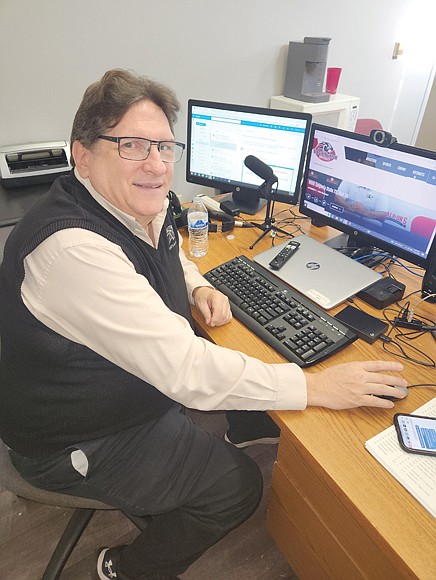 Four years ago, James S. "Jim" Junot said he was just testing some new software to see if it would improve the sports information operation he runs at Virginia Union University.
The 63-year-old Kentucky native said he never expected the results he got.
His test has turned into "Lights, Camera, Author," a podcast featuring interviews with authors who have written about films, TV and entertainment that now ranks among the internet's top podcasts on books, according to Spotify, a hosting site.
In some months, Mr. Junot's podcast has ranked as the No. 1 podcast on books, but it always makes the top five, according to Podcast Land and Spotify.
Mr. Junot talks with entertainers, actors and authors, and draws an audience of about 16,000 people a week in the United States and overseas, according to Spotify.
"I've always been interested in entertainment and the people involved," said Mr. Junot, whose podcasts are now available on a wide range of sites, including Apple.
"When I started, I wanted to do something that was far away from sports which is the focus of my job," he said. He said he found no one else was doing the kind of interviews that he does, and his podcast still has no substantial competition.
The married father of two children and grandfather of five said he is gratified that people as far away as Australia tune in.
Since getting started in 2019, Mr. Junot has produced 217 podcasts or at least one a week.
He said the interview that brought heightened attention to his podcast was the one he did with singer Olivia Newton-John on her memoir "Don't Stop Believin,'" which was released in 2021, the year before her death.
His guests have ranged from Kathy Reichs, creator of the crime series on a medical examiner that became the TV series "Bones," on which she served as executive producer, to George "Funky" Brown of Kool & The Gang.
Most recently, he interviewed Nicolette Olivier on her book about comedian Buster Keaton and Scott Eyman on his book about acting great Charlie Chaplin.
Mr. Junot said he tries to read the book and also do some background checking before interviewing an author. "I want to be prepared," he said.
He said his podcast is on the radar screen of publishers who often send requests to him for interviews of authors.
He said he also seeks out writers or entertainers whose works he believes would be of interest. It is a labor of love, as he is not paid.
A graduate of the University of Louisville, his Hollywood side hustle is far away from his regular job.
After earning his diploma, he worked for 17 years for Louisville's sports information office.
He did research for Ms. Reichs and then was induced to move to Richmond by another crime writer, Patricia Cornwell, who also had him doing research for her, though that work ended when she moved.
He started doing sports information for VUU in 2003 and, except for a brief stint with Virginia State University, has been with VUU ever since.
"I love what I do for VUU," Mr. Junot said. "But it is also fun to have a hobby that brings me in contact with people in the entertainment field. It is not something I expected but it has really worked out."