Fire Department 40-year veteran Earl Dyer dies
'He was a dedicated public servant,' Fire Chief Carter said
10/12/2023, 6 p.m.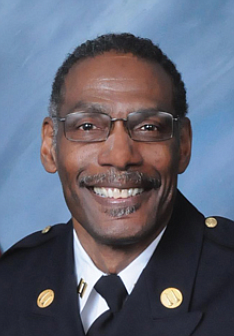 Battalion Chief Earl Dyer of the Richmond Department of Fire and Emergency Services is being remembered as a "consummate professional and a man of the highest integrity" following his death after experiencing a medical emergency at work.
Chief Dyer died Thursday, Oct. 5, 2023, after being rushed to a nearby hospital after collapsing. His wife, Anna Dyer, a Richmond Police employee, was with him when he died.
Funeral arrangements remain incomplete.
Chief Dyer joined the department in September 1983 and celebrated his 40th work anniversary before his death.
Mayor Levar M. Stoney and Fire Chief Melvin D. Carter praised Chief Dyer for his commitment to the department, the city and his country. More than 160 community members posted comments and condolences on the department's Facebook page.
"He brought his own values to the organization in ways too many to enumerate," Chief Carter stated. "He was a dedicated public servant not only with the department but also with the U.S. Army."
A reservist, Chief Dyer served in Operation Desert Shield/Desert Storm to liberate Kuwait in 1990-91, and also served several more tours during the U.S. occupation of Iraq from 2003-2011, Chief Carter noted.
Mayor Stoney remembered Chief Dyer "as one of the first folks that befriended me early in my tenure as mayor. He had a pulse for what the sentiments were within the ranks of the Fire Department. He was salt of the earth, truly one of the good guys."
David Pulliam exemplified the Facebook posts with his heartfelt statement: "Words cannot express the pain of my broken heart. I loved Earl dearly and am thankful to God that he allowed us to be friends. ... Until we meet again."
Tobias Black, a soldier who served with him, described Chief Dyer as a "great man and father figure when needed. He was the best 1st Sgt during my military service and an ear during the hardest periods of my life."
Another friend and former city firefighter stated that Chief Dyer "was instrumental in shaping my career in the Fire Marshal's Office. Let us strive to be like Earl, extending a helping hand whenever we can and reminding those around us that they are not alone in their struggles."