Churches continue to alter services in era of COVID-19
'It gives you a reason to reach out to others'
Darlene M. Johnson | 10/26/2023, 6 p.m.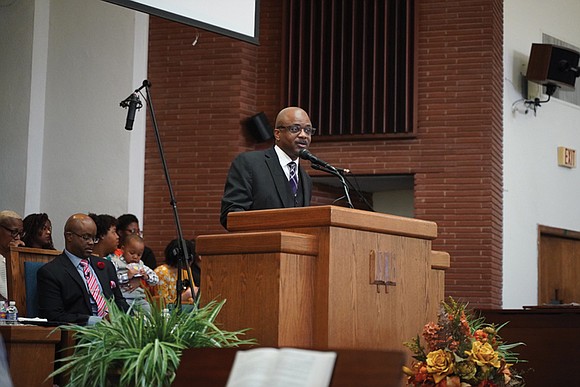 Like other parts of the United States, the COVID-19 pandemic transformed church services throughout the Greater Richmond Region.
The onset of the deadly virus in early 2020 led to social distancing measures and restrictions on large gatherings. Some churches introduced drive-in services with congregants worshipping in their vehicles in church parking lots. Many churches shifted to online worship, streaming their services and sermons through platforms such as YouTube or Facebook Live.
Yet, while the pandemic led some churches to fully transition to online worship services, others such as Ephesus Richmond Seventh-Day Adventist Church, livestreamed services on YouTube before COVID-19.
Still, further adjustments were necessary once the country shut down. At Ephesus, Pastor Dr. Gary Banks and other church leaders realized a need to invest more in virtual broadcast services.
The church fully transitioned to online-only services in March 2020, said Dr. Banks, who has led Ephesus for the last six of his 31 years as a pastor. The transition prompted Ephesus' leadership to buy new production software and shorten worship services from between two to three hours long.
While in-person Saturday services once drew up to 300 people, attendance for livestreams were not as faithful initially and the number of people went down, Dr. Banks said.
"There may have been 50 people online while I was preaching in real time," Dr. Banks said. "By the end of the week, there were 300 to 400 views."
Dr. Banks realized that although some worshippers were still attending services, others preferred to worship online at their convenience.
"[The members of] churches who had poor production value sought out other streaming services within our denomination that had a higher production value," Dr. Banks said. "A lot of my members watched our service live and then moved to a church that has a very high production value."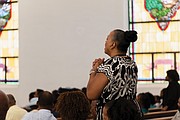 In December 2020, Ephesus returned to in-person worship with a limited number of congregants. A big reopening was planned for January 2021, but in-person service was halted again when the COVID-19 omicron variant emerged, Dr. Banks said. Since then, Ephesus has conducted both in-person and online services.
Gloria Boothe has attended Faith Community Baptist Church in Richmond's East End for 28 years, including the last three years since the COVID-19 pandemic transformed churchgoing services everywhere.
Mrs. Boothe, who is considered "the mother of her church" that is led by Rev. Ciarra Smith-Bond, readily admits her preference for worshiping inside the church rather than attending services online.
Physically attending Faith Community allows her to enjoy the camaraderie of fellow members and worshippers, Mrs. Boothe said, adding that she does not find the same sense of closeness online that being in her church sanctuary offers.
"It's nothing like being around other believers," she said.
---
Mount Olive Baptist Church in Glen Allen also offered livestream services before the COVID-19 pandemic. Its last pre-pandemic in-person service was March 2020, said the Rev. Darryl Thompson, senior pastor of the church. Going virtual also spurred Mount Olive to put more effort and focus into its livestreams.
"There were a few Sundays when the pandemic really first hit that we did not have in-person services at all. We just rebroadcast some previous services," Rev. Thompson said. "After that, I started going into the sanctuary, pre-recording the sermon and we would play it."
Eventually, Rev. Thompson and the Mount Olive media team went to the sanctuary on Sunday mornings to produce the sermons live. Although there was a period of adjustment to online worship, church members eventually adapted. Viewership increased significantly compared to before the pandemic, Rev. Thompson said.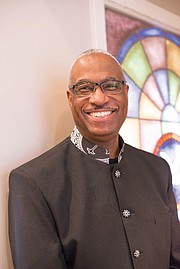 In August 2021, Mount Olive returned to in-person services with limited worshippers allowed and registration required.
Several months later, all restrictions were lifted and registration was no longer necessary. Mount Olive continues to provide the option to lives- tream from home in addition to in-person worship.
"We definitely put more emphasis on the virtual worship experience in terms of just making sure that we try to include those people who are worshiping with us virtually ... making sure that they both feel a part of the worship experience," Rev. Thompson said.
Amid the recent resurgence of COVID-19 cases, Mount Olive is prepared to modify their approach, if necessary, Rev. Thompson said.
"We are aware of the rise in cases and we have been keeping watch on that," Rev. Thompson said. "If we need to make adjustments, we are prepared to do that."
---
Meanwhile, The St. Paul's Baptist Church, led by Dr. Lance D. Watson, not only has multiple locations in the area, but also has an online reach across the country.
Dr. Pensacola H. Jefferson watches St. Paul's Sunday services at her home in Phoenix. She was introduced to St. Paul's livestreams a few years ago by her friends, Dr. Alice Freeman and Dr. Maceo Freeman Jr. Dr. Jefferson was stationed with the couple in Japan at the Yokota Air Force Base in the early 1990s, she said.
Dr. Jefferson had brain surgery in 2014 and relied on her mother to drive her to church, she said. When the pandemic dictated a socially distanced society, the two began attending services solely online.
Dr. Jefferson, who is an online christian discipleship counselor, said St. Paul's livestreams "feels like going to church."
She uses it as a "ministry tool" to connect with people who also do not go to physical locations for worship.
"It gives you a reason to reach out to others, you're not being lazy, you're not being complacent," Dr. Jefferson said.