Right to vote hangs in balance, by Marc H. Morial
10/26/2023, 6 p.m.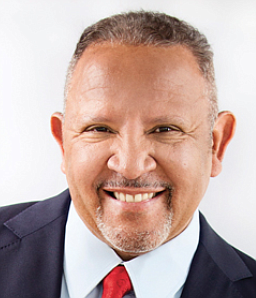 "The right to vote is the cornerstone of our democracy and should be accessible to every eligible resident. It has been proven that participating in the civic process reduces recidivism, and individuals take pride in their communities when they can fully contribute to Virginia. True democracy does not deprive individuals of participation based on the whim of one individual. It's time to correct the wrongs of our 1902 Constitution and leave the power to one succinct process that cannot be modified by a single person's emotions in the moment." — Sheba Williams, Executive Director, Nolef Turns
Felony disenfranchisement is undeniably rooted in white supremacy.
In order to be admitted to the Union after the Civil War, the former Confederate states were required to ratify the 14th Amendment, which guaranteed the privileges of citizenship – including the right to vote – to formerly enslaved Americans. Prohibited by federal law from barring Black voters, southern states quickly enacted measures known as the Black Codes, establishing severe penalties for minor and vaguely-defined crimes like vagrancy. At the same time, these states rushed to prohibit anyone with a felony conviction from voting.
As a result of this racist legacy, one in 19 Black Americans of voting age is disenfranchised, a rate 3.5 times that of all other Americans.
While many states have revised their laws and policies regarding felony disenfranchise- ment over the last three years, Virginia is the only state that places the voting rights of all residents with felony convictions at the sole discretion of a single individual, Gov. Glenn Youngkin.
That soon could change, thanks to a lawsuit filed by Fair Elections Center on behalf of Nolef Turns, Inc., a nonprofit dedicated to helping individuals with felony convictions, and two disenfranchised Virginians, Gregory Williams and George Hawkins.
A federal judge last week denied Gov. Youngkin's request to dismiss the case. The National Urban League applauds U.S. District Judge John A. Gibney's decision, and condemns Gov. Youngkin's actions that made the lawsuit necessary.
Under the three governors who preceded Gov. Youngkin, Virginia used specific, objective, and neutral criteria to restore rights to people with felony convictions – criteria such as sentence completion, or release from incarceration.
"In this way, they used their authority under the Virginia Constitution to remove arbitrary decision-making from the process and create a uniformly administered, non-discretionary restoration system," the plaintiffs wrote in their complaint.
But Gov. Youngkin threw out this policy and grabbed the power to deny individuals'voting rights for himself.
As of October 2022, more than one in 20 Virginians with felony convictions remain disenfranchised even after completing their full sentences including parole and probation—the sixth highest rate in the nation
To be clear, the lawsuit does not call for Virginia to restore voting rights for all those with felony convictions – a policy that the National Urban League would endorse. It merely asks that Virginia set clear rules governing decisions on restoring voting rights, rather than leaving the decision to the whim of the governor without explanation or justification.
The Virginia NAACP recently announced it will sue Gov. Youngkin for public records detailing how he makes decisions on voting rights restoration requests. He has withheld the records since the organization requested them in May.
"Black Virginians are more overly represented in our correctional facilities. So, it impacts Black Virginians more so than any other ethnic group," Virginia NAACP President Robert N. Barnette Jr., said. "We want to make sure that if people have done their time and have applied for the rights to be restored, that either they are given a reason or their rights have been restored."
While Fair Election Center's lawsuits won't restore the voting rights of people on felony-level probation or parole in the 26 states that still deny them, or to the individuals who have successfully fulfilled their sentences in 11 states that still deny them, they are a step toward justice.
The writer is president and CEO of the National Urban League.