Artist talks coming to 2 local museums
Debora Timms | 9/7/2023, 6 p.m.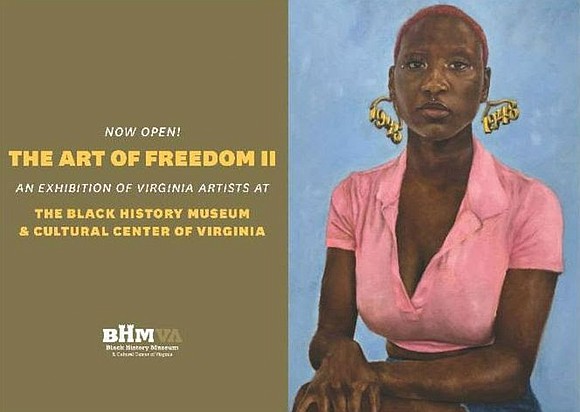 Visitors to the Virginia Museum of Fine Arts (VMFA) have until Sept. 10 to see two exhibitions that share a connection to Richmond before they come to an end — "Benjamin Wigfall and Communications Village" and "Whitfield Lovell: Passages."
The VMFA's exhibition of Richmond native Benjamin Wigfall is the first retrospective of his career covering his early years growing up in Church Hill, his work as an abstract painter and printmaker and his pioneering social artwork in founding Communications Village, a community art space in Kingston, N.Y.
Purchasing a ticket for the Wigfall exhibit also allows visitors to explore the most comprehensive exhibition to date of contemporary artist Whitfield Lovell's work. It features an immersive, multi-sensory homage to Richmond's historic Jackson Ward neighborhood titled "Visitation: The Richmond Project."
Local historian, radio personality and fourth-generation Jackson Ward resident Gary Flowers, gave his thoughts on the exhibit in a promotional video made by the VMFA.
"No one can tell you what this exhibition is until you see it for yourself, until you feel it for yourself," Mr. Flowers said, noting the images he saw typified the Jackson Ward that in its heyday was known as "Black Wall Street" and the "Harlem of the South."
On Thursday, Sept. 7, the artist himself will be at the VMFA. Beginning at 6:30 p.m., Mr. Lovell will discuss the creation of his 2001 work. Tickets are required to attend the special evening event in person, but it also will be livestreamed for free on the museum's website with no advance registration required.
The Black History Museum and Cultural Center of Virginia (BHMVA) also will provide opportunities for visitors to engage with some of the artists on display in the museum's exhibition, "The Art of Freedom II."
Featuring Virginia-born and Virginia-based artists, the more than 80 pieces in the exhibit were created in various mediums by painters, sculptors, illustrators, photographers and artisans working with fabric, glass and wood. Open since May 24, each piece displayed manifests the artists' personal expression of the meaning of freedom.
On Saturday, Sept. 9, from 2 to 4 p.m., the community is invited to a presentation and conversation to hear directly from some of the featured artists about how they interpret their work and what inspires them. No registration is required to attend this free event, or a second event which will take place on Saturday, Oct. 14.
"The Art of Freedom II" will be on exhibit at the BMHVA through Dec. 17.