Morgan State upsets UR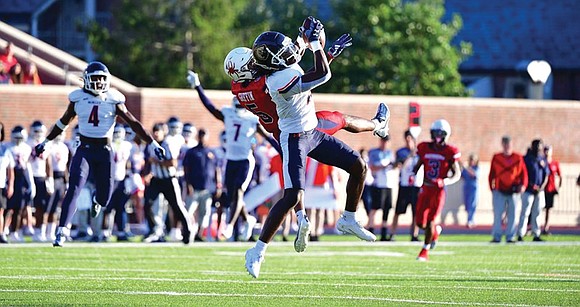 As upsets go, this was a classic.
Morgan State boasts some of history's greatest football players, and it was like they'd all returned to the Bears' lineup for one joyous night in the prime of their lives.
As a prohibitive underdog, the visiting Bears defeated — no, make that shocked — the host University of Richmond Spiders, 17-10, on Sept. 2 at Robins Stadium.
Playing a relentless brand of defense, Coach Damon Wilson's Bears ousted FCS No. 16 ranked UR, a perennial FCS contender and the 2008 national champion.
Morgan has sent at least 100 players to the NFL, most notably Hall of Famers Willie Lanier, Len Ford, Leroy Kelly and Roosevelt Brown. But that mostly was decades ago before college entrance doors opened wider for Black athletes.
In more recent times, the FCS/HBCU's have struggled to keep up with the more established FCS programs. In fact, the MEAC and SWAC champs don't even compete in the FCS playoffs, preferring the Celebration Bowl.
With what happened at UR, perhaps they should.
At least in spirit, Bears' "old-timers" were there on UR's West End campus to record a rare victory for any HBCU over a member of the powerful Coastal (formerly Colonial) Athletic Association.
In the only previous meeting between UR and Morgan, the Spiders won 46-24 in 2014. UR had never lost to any HBCU.
Much credit goes to second-year Bears Coach Wilson, who came to Morgan last year following a brilliant run at Bowie State.
At Bowie, Coach Wilson was 89-45 overall, including 62-21 in CIAA, with five NCAA Division II playoff bids. CoachWilson was 4-7 a year ago in his first season with Morgan.
From Richmond, the Bears travel to Akron for a 6 p.m. Saturday scrap against the FCS Mid-American Conference Zips.
For aching UR, the travel itinerary leads to East Lansing, Mich., where the Spiders will take on Big 10 juggernaut Michigan State at 3:30 p.m.