Trojans get the best of a crazy ending
VSU 33-24 win over NSU a breakthrough victory
9/7/2023, 6 p.m.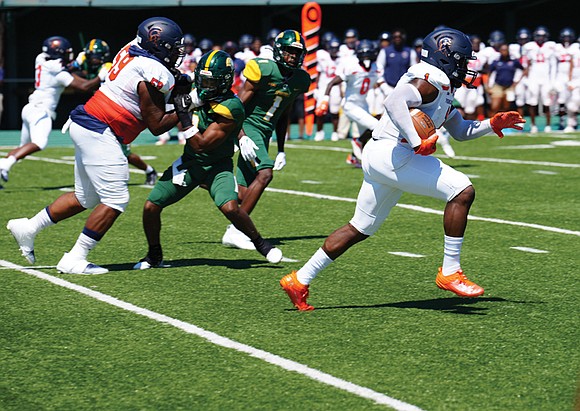 It couldn't have ended any better for Virginia State or any worse for Norfolk State.
Before 21,640 fans and an ESPN-Plus audience at Dick Price Stadium, the visiting Trojans pulled off an improbable 33-24 victory in the season opener for both HBCUs.
Here's what it came down to:
Trailing 27-24 with one second left, NSU lined up for a chip-shot 23-yard field goal (about the same as an extra point) to try and tie the game and force overtime.
Then everything went wrong for NSU, and everything turned to sunshine for the Trojans.
The snap from center went through the holder's hands and was scooped up by VSU's Dante Clark, who rumbled 77 yards for the final score as time expired. "I want to apologize to our fans; we have to do a better job in preparing our team," said NSU Coach Dawson Odums.
It was VSU's first win over NSU since 2017. NSU had won eight of the last nine before this season.
Under second-year Coach Henry Frazier III, it was a breakthrough victory for his Division II program (36 scholarships) to upend an FCS opponent (with 63). It also marks the Trojans as a clear contender for the CIAA crown and Division II ranking. Headliners for VSU included:
From Petersburg, Upton "Juice" Baily rushed for 184 yards on 18 tries, including an 80-yard highlight reel special touchdown. Kymani Clarke, a transfer from Jackson State, added 89 yards overland in 12 totes.
Steve "Romelo" Williams, a transfer from Central Connecticut playing his first game as a Trojan, completed 13 of 19 passes for 133 yards.
Chantz Baylor from Virginia Beach led the defense with nine tackles while preseason All-CIAA Willie Drew (Smith- field) had four tackles plus an interception.
Dominating Matt Foster, a 6-foot-7, 315-pound offensive lineman from Georgia, helped clear the way for 487 yards (316 rushing) offense and 22 first downs.
Dante Clark, who delivered the final thrill, is a redshirt freshman from far-away Stockton, Cal.
VSU will play its home opener Saturday at 2 p.m. against invading Tusculum, Tenn. The Pioneers of the Division II South Atlantic Conference were 8-3 last year but started this season with a 38-7 loss at FCS Ken- nesaw, Ga., State.
NSU will travel to Hampton to renew the "Battle of the Bay" at Armstrong Stadium at 6 p.m. The Pirates are coming off a 35-31 win over Grambling State in the Brick City Classic in Harrison, N.J.