RRHA gets REAL about reducing gun violence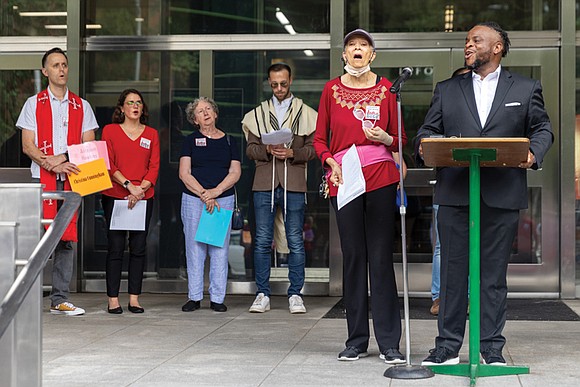 A crime-reduction initiative that Mayor Levar M. Stoney has spurned apparently will come to Richmond after all.
The city's housing authority is partnering with the nonprofit REAL LIFE to implement the same initiative in Richmond that is credited with dramatically cutting shootings and violent crime in Hopewell.
A nationally recognized approach, REAL LIFE's Project Safe, Alive and Free seeks to identify individuals who are most likely to shoot a weapon and offer them a choice of resources such as life coaches, job training and after-school programs to help them change, or a credible, targeted effort by law enforcement to lock them up.
Steven B. Nesmith, chief executive of the Richmond Redevelopment and Housing Authority, announced the partnership with REAL LIFE in officially launching RRHAs new "Hope, Jobs & Security" initiative to improve the lives of residents of public housing.
The partnership with REAL LIFE is just one element of the RRHA plan that includes stepped-up efforts to link public housing adults and youths to employment training and jobs, mental health and health services, conflict resolution training and upgraded after-school programming, along with employing a nine-member private security force to patrol communities.
The announcement that Project Safe, Alive and Free would be part of the initiative came just two weeks after the mayor again rejected the program after meeting with members of the faith-based RISC, Richmonders Involved to Strengthen our Communities, which has been advocating for its acceptance and even gained federal grants to help pay for it.
The RRHA partnership will be a major test for Project Safe, Alive and Free given that Richmond's population overall is 10 times that of Hopewell and the 3,200 units RRHA man- ages are almost 10 times Hopewell's public housing units.
"We'll be up for it," said Dr. Sarah Scarbrough, founder and director of REAL LIFE, an addiction treatment, counseling and housing program she created to serve people released from prison.
Dr. Scarbrough said it would take three to four months to get the program up and running in Richmond. That includes identifying the violence-prone individuals.
She said that research shows that the shootings and violence in communities generally involves a small fraction of people and often involves retaliatory shootings.
She added that research also suggests that just .05 percent of a community's population are likely shooters and that for every shooting there are four retaliatory shootings.
In Hopewell, she said that 40 people were identified as the most violence-prone and her program was able to contact 30. She said the program now works with 15 of those individuals while still trying to get more to cooperate and engaged.
Hopewell already has reported an 80 percent drop in violent crime compared with a year earlier since the program launched last May.
Dr. Scarbrough said that program in Richmond would need to work with a larger population than in Hopewell.
Of the 10,000 residents of public housing, which will be the program's main focus, she estimated the population of the violence-prone to be served would involve between 150 and 500 people.
Meanwhile, the new security officers already are patrolling communities, and a website has been launched to enable RRHA residents to access job training.