47 acres and a dream
Developer seeks to expand family's legacy in Tappahannock with housing for seniors, workers
Debora Timms | 9/28/2023, 6 p.m.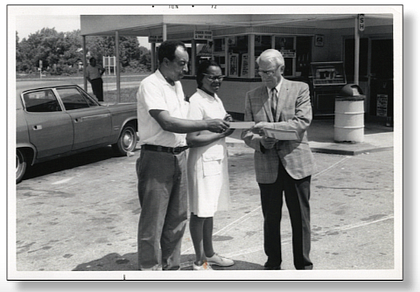 Business is in Shiree Monterio's blood.
Her family has owned land and businesses in Virginia dating back to the late 1800s. Her great-great-grandfather was a blacksmith.
Her great aunt-owned and operated a Greyhound bus station in the community — one of the first Black-owned stations in the state. Others owned restaurants, convenience stores and a storage facility.
Now a developer in her own right, Ms. Monterio is entrusted with the family prized possession: 47 acres of prime real estate in Tappahannock, the rural, coastal community about 45 miles southeast of Richmond where her great-great-grandfather, Thomas Croxton Harris, was enslaved. Along with her mother, she has plans to build an $80 million mixed-use development — including senior and workforce housing, retail and community space.
"My grandfather's dream was to do something with the land," she said. "We thought this would be a great way to launch into the direct development space by taking land that has been in the family since the late 1800s."
It is a journey that has attracted supporters and detractors, and currently involves a battle with county officials to secure needed zoning changes to make the project possible.
When Ms. Monterio's grandfather, Thomas Caldwell Harris died in 2008, his four children, including Ms. Monterio's mother, June C. Monterio, inherited 47 acres of land.
Now Ms. Monterio wants to help realize her grandfather's dream and "do something with our land," she said.
"[My mother] took his vision and started building on it" with a desire to help Essex County residents," she said.
"One of her goals was to bring back the vibrancy and the businesses to the community," she said.
Ms. Monterio says she also has the same "entrepreneurial bug." After earning a bachelor's degree in finance from Howard University and a master's in real estate development from Georgetown University, she worked in the affordable housing space for nearly 20 years. She worked for Fannie Mae, consulted on Section 8 policy and programming at Quadel and was a project manager with WinnCom-panies before founding her own company, 7andM Development, LLC in 2017.
Armed with such education and knowledge, Ms. Monterio and her mother decided that a mixed-use development project that includes senior and work- force housing was one way to help restore the community.
She and her mother unveiled an $80 million proposal, Essex Point at Mt. Clement, to the Essex County Economic Devel- opment Authority last October.
The 13-acre parcel they plan to develop is currently zoned for business, so they are seeking to have it rezoned from B1 to PUD in order to allow for a mixed- use development that includes senior and workforce housing. Providing housing for teachers, nurses and others who work in the community is something Ms. Monterio said is integral to their vision of the project.
"Workforce housing is im- portant because only 30% of people who work in Essex County live there because there is not enough housing
available," Ms. Monterio said. "There was also a big lack of places for seniors to age in place and to age with some resources and amenities around them."
The need for housing and amenities in the town has been a recurring theme from supporters and opponents of the development project.
Among the supporters Ms. Monterio has attracted are residents and county officials such as Thomas Blackwell, commissioner of the revenue for Essex County. He said by phone that the supporting let- ter he wrote quoted part of the presentation Ms. Monterio and her mother made to him several months ago.
"They said this plan was to accomplish a goal of bringing commerce, culture, community and affordability. I liked that phrase that they used because it does touch on four very important areas, and especially the community part of it," he added.
Rev. Cornelius Holmes is another supporter. He has lived in Tappahannock for the past six years as pastor of First Baptist Church, but said he has a longtime connection to the area growing up in neighboring King and Queen County.
"The county has a need for housing," he said in a recent telephone call. "What makes this so unique is that this family has a history of not only living in the county, but having businesses in the county and contributing to the welfare of the county."
That land ownership is some- thing Ms. Monterio says not every family has. It's a reason she calls her family blessed and she says her grandfather believed those who are blessed should do good with that blessing. That is what she sees as the goal of Essex Point at Mt. Clement.
In announcing his Make Virginia Home Plan initia- tive last year, Gov. Glenn Youngkin noted that "access to attainable, affordable, and inclusive housing is not only a fundamental need but also a strategic component for the prosperity of our state."
"During our efforts to attract and retain businesses to Virginia, the availability of workforce housing for their future employees was consistently raised by employers," added Secretary of Commerce and Trade Caren Merrick. "It's clear there is a strong connection between economic growth and needs for attainable housing options."
Accessible and affordable housing in the state has long been an critical issue, but getting development projects off the ground is challenging, especially for developers of color who often lack access to the large amounts of capital financing required says Lauren Counts, the head of national programs with Capital Impact Partners (CIP), a community
development financial institution headquartered in Arlington. They provide loans and capacity building through a variety of training programs across a national market.
She said the organization noticed in 2018 that many of their loans for affordable housing weren't going to developers who live in those communities.
"We know as an industry, people of color and women in particular are underrepresented," Ms. Counts said in a Zoom interview. "They're less than 3% of the overall population of real estate developers."
CIP developed the Equitable Development Initiative which they launched in Detroit. In 2019, it was expanded to the D.C. region and Ms. Monterio was among the 30 individuals in its first cohort for a 16-week intensive training program.
She said CIP was happy to support Ms. Monterio with predevelopment funding.
"She is a developer with experience in large project affordable housing as a consultant and to be able to develop land she owns to address housing issues in the region — it's very rare." Ms. Counts said.
The latest step in getting approval for the project was a public meeting before the Essex County Planning Commission that took place Sept. 5.
While the majority of those who spoke, including Rev. Holmes, did so in favor of the development, those against it cited issues with traffic, utilities and the impact it may have on both existing and future industry in the area. The suggestion made of swapping the family's land for another parcel drew some responses from supporters who felt the comments were disrespectful and dismissive of a family whose legacy is well-known and highly regarded.
At the conclusion of the meeting, the commission voted to recommend the proposal be denied citing concerns over exceptions that would be required, such as allowing the 15-acre minimum to be waived.
Speaking by phone about the result, Ms. Monterio said she was "shocked and very disappointed" by the decision.
But this denial is not the end of the line, she said.
Ms. Monterio will present her proposal to the Essex County of Board of Supervisors on Monday, Oct. 2, at 7 p.m. in the Essex High School auditorium in Tappahannock.
She remains hopeful because the board makes decisions independently so they do not have to follow the planning commission's recommendation.
In the meantime, she is urging people to write or call the board of supervisors to make their voices heard.
"We're not going away," Ms. Monterio said. "This is our land and we are going to continue to fight."