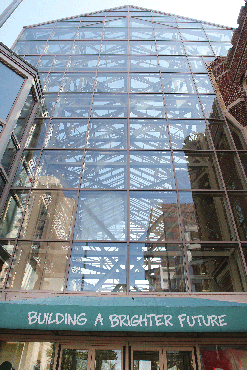 This optimistic slogan just seems like a bad joke. It's attached to the front of this long-vacant glass palace in Downtown.
The "Building A Brighter Future" slogan sits above the entry to the one-time food court and restaurant space of the long-gone 6th Street Marketplace, a failed Downtown shopping mall, most of which was torn down.
This section, which survived, has been closed for at least seven years, with no indication city officials are actively marketing the space. For several years, private developers offered proposals to transform the building into apartments, but the city showed little interest and nothing came of the ideas.
So, for now, the brighter future remains on hold.