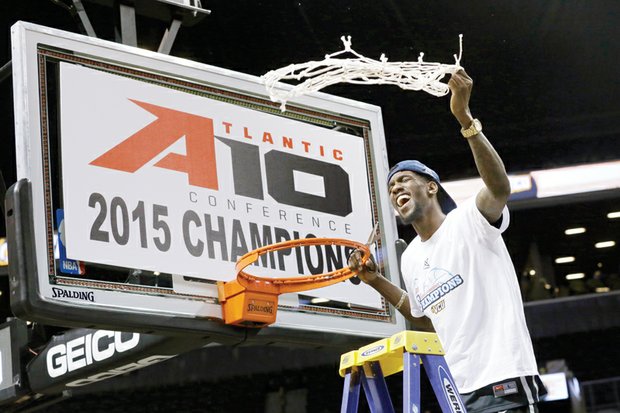 Virginia Commonwealth University basketball star Briante Weber, who suffered a season-ending knee injury in January, cuts down the net as the Rams celebrate their Atlantic 10 Conference Tournament title after Sunday's 71-65 win over University of Dayton in New York. Winning the title gives the Rams an automatic berth in the NCAA Tournament.
Stories this photo appears in:

The Virginia Commonwealth University Rams regained their rhythm in New York, winning four games in four days for their first Atlantic 10 Tournament title. Now the Rams must hope their "reward," a cross-country trip to the NCAA, won't throw them out of sync again. VCU, 26-9, is seeded seventh. They play Big 10 Conference member Ohio State University on Thursday, March 19, in the NCAA West Region game in Portland, Ore. Ohio State, 23-10, is the 10th seed.