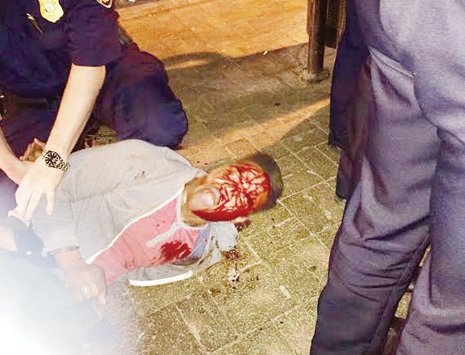 Bloodied University of Virginia student Martese Johnson is held down by an ABC agent after being slammed to the ground last week outside a Charlottesville pub.
Stories this photo appears in:

U.Va. student beaten by ABC agents; Gov. McAuliffe orders all agents retrained
The photo of Martese Johnson lying dazed, bloodied and bruised on the pavement is almost iconic. Blood streams like huge tears from the gash on his forehead and covers his face. His shirt is saturated with blood. The gruesome image of the University of Virginia honors student was captured in photographs and by video only seconds after he was slammed to the ground by state Alcoholic Beverage Control agents outside a Charlottesville bar last week on St. Patrick's Day. The images, posted on the Internet, have gone viral — drawing fire from people across the nation as yet another example of unwarranted police brutality unleashed against a young black male.