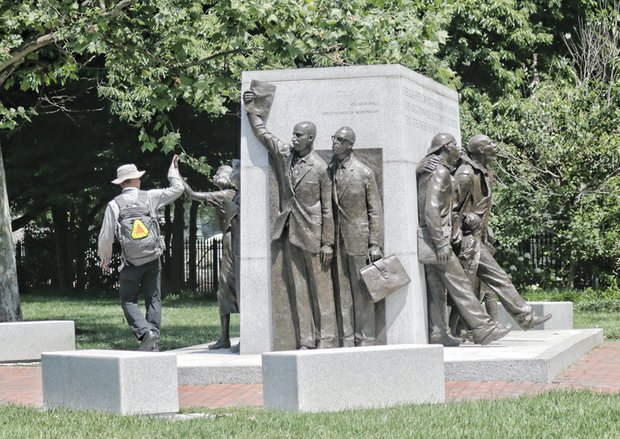 A passer-by gives a high-five to the likeness of Barbara Rose Johns at the Virginia Civil Rights Memorial at Capitol Square in Downtown.
Unveiled in 2008, the memorial celebrates Ms. Johns and others whose protests and lawsuits brought an end to the Jim Crow-mandated separation of black and white students in public schools.
In 1951 at age 16, Ms. Johns led a student walkout from a decaying high school in Prince Edward County. The legal case that grew from that protest helped generate the U.S. Supreme Court's landmark Brown v. Board of Education decision on May 17, 1954 — 61 years ago last Sunday.
That remarkable decision outlawed public school segregation and became a major step toward ending legal apartheid in this country.
Other figures on the memorial include, front, the late NAACP attorneys Oliver W. Hill and Spottswood W. Robinson III, both of Richmond, who represented Ms. Johns and others in Prince Edward County and whose legal attack on segregation became part of the Brown case. Right, figures celebrate courageous Virginians who marched, protested and helped bring down segregation, serving as a reminder of the role of ordinary citizens in shaping public policy.