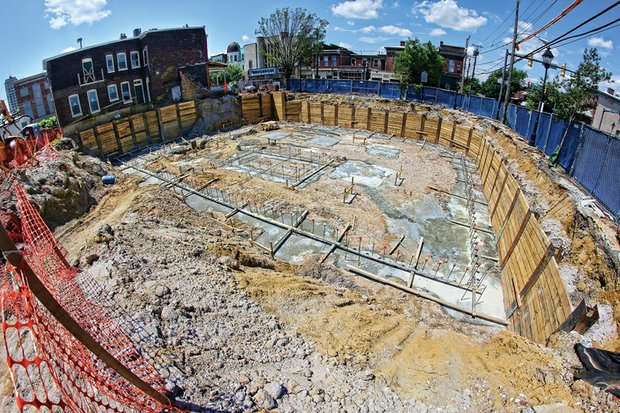 The foundation is being laid for the $6.3 million Eggleston Plaza at 2nd and Leigh streets in Jackson Ward, as captured Tuesday by a fisheye lens.
When complete, the development is to include 31 apartments and a first-floor restaurant on the former site of the historic Eggleston Hotel. During the era of segregation, the hotel served renowned civil rights leaders, famous entertainers and other African-Americans who were barred from other Richmond hotels because of the color of their skin. The building collapsed and the site was cleared in 2009.
The Eggleston family teamed up with developer Kelvin Hanson on the new project, according to city documents. MGT Construction is doing the work.
The project is across 2nd Street from the Hippodrome Theater and Taylor Mansion entertainment, restaurant and residential complex. The planned development also includes 10 housing units going up nearby at 1st and Jackson streets.