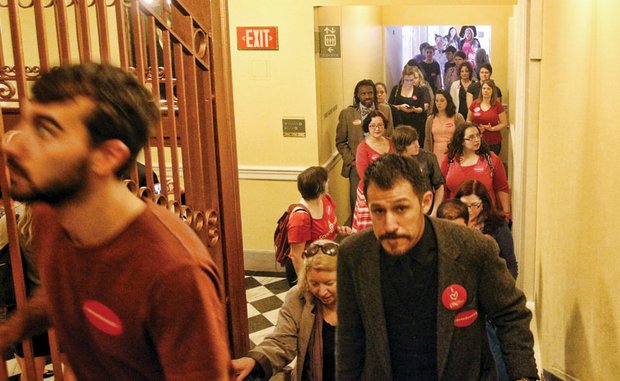 Members of the impromptu "Keep Ken Out" movement line the hallway and steps leading to the Virginia Senate gallery. Wearing stickers, like the one above, they came to the State Capitol to protest a Republican plan to seat Ken Cuccinelli on the Virginia Supreme Court. The protest and plan ended when he declined the position.
Stories this photo appears in:

Cuccinelli then McCullough poised for Va. high court
Ending a long-running dispute with the governor, the Republican majority in the General Assembly will cap the legislative session by filling a vacant state Supreme Court seat with their own choice. However, as has been traditional, the choice will be a seasoned jurist — Stephen R. McCullough of the Virginia Court of Appeals, GOP leaders in the House and Senate announced Wednesday.