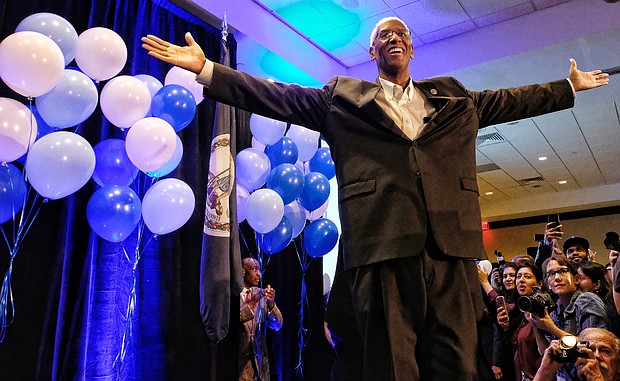 Congressman A. Donald McEachin, a Henrico Democrat, celebrates his re-election to the 4th District seat in the U.S. House of Representatives at a joint victory party with Ms. Spanberger Tuesday night at a Henrico County hotel. He defeated Republican challenger Ryan A. McAdams and Libertarian candidate Peter Wells.
Stories this photo appears in:

With the start of 2019, the Richmond Free Press invited select state and city officials and leaders to share their foremost wishes for the new year. Here are their responses:

Voter enthusiasm, coupled with rejection of Trump policies, results in Democrats regaining the U.S. House of Representatives in midterm election
Voters brought an end to one-party Republican rule in the nation's capital in Tuesday's election. Propelled by a surge of rank-and-file enthusiasm and widespread urban and suburban dissatisfaction with President Trump, Democrats took control of the House of Representatives for the first time since 2011.