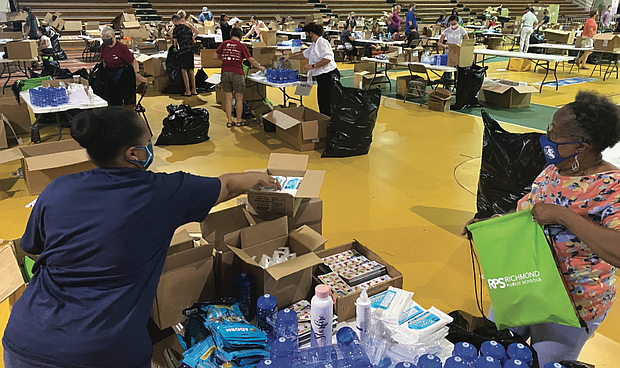 On Tuesday, community volunteers Tracie Tucker, left, and Barbara Burton, the parent of two RPS graduates, participated in a "PPE Party Packing" effort at the Arthur Ashe Jr. Athletic Center next to The Diamond to pack kits of personal protective equipment, or PPE, for students.
Also joining in the effort were RPS teachers and staff and Richmond social workers and employees from the Office of Community Engagement. Each kit contains hand sanitizer, a mask, a water bottle, a thermometer and a magnet printed in both English and Spanish with the symptoms to check for during the pandemic. The group hoped to pack at least 25,000 PPE kits that will be given to students on the opening day.
Gov. Northam and the state health commissioner have issued public health orders for all Virginia students in kindergarten through 12th grade to wear masks inside schools. The goal is for students to stay healthy and avoid the coronavirus.