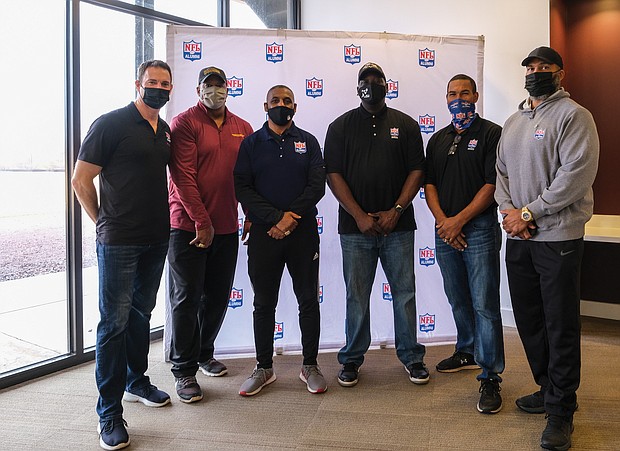 Several former NFL players met and signed autographs for Richmond area fans last Saturday during an event to encourage people to get vaccinated against COVID-19 held at the Bon Secours Training Center. Attending the event are, from left, Kyle Richardson, former punter for the Baltimore Ravens and NFL Alumni lead ambassador; Ravin Caldwell, former Washington Football Team linebacker and two-time Super Bowl champion; Radford native Gary Clark, former Washington wide receiver and two-time Super Bowl champion; Riddick Parker, Seattle Seahawks defensive tackle; Richmond native Ken Oxendine, a former Thomas Dale High School standout and Atlanta Falcons running back and vice president of the NFL Alumni Richmond chapter; and Richmond native Dion Foxx, a former Meadowbrook High School standout, former linebacker for Washington, the Miami Dolphins and the Green Bay Packers and president of the NFL Alumni Richmond chapter. The event was sponsored by NFL Alumni Health, in partnership with the federal Centers for Disease Control and Prevention, the Richmond and Henrico health districts and Bon Secours.
Stories this photo appears in:

Virginia health officials are urging caution and for people to protect themselves as omicron, a new variant of the coronavirus, rapidly spreads throughout the United States.