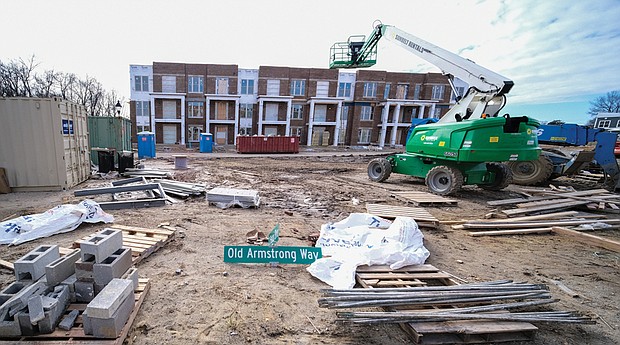 Armstrong Renaissance is heading to the finish line after more than three years of construc- tion at this East End site near the city's border with Henrico County. Crews now are focusing on development of the final phase – 36 attached and detached homes to be sold at market rates – that will cap the redevelopment on the former site of Armstrong High School.
Oversized compared with most of the homes on nearby streets, the new houses were initially priced between $225,000 and $350,000 and are designed to add a residential cachet to the area.
When finished, the total 22-acre development will contain 256 modern apartments and houses. The first residents moved in just before Thanksgiving in 2019.
Previously called Church Hill North, Armstrong Renaissance is the creation of a partnership of the Richmond Redevelopment and Housing Authority and the Boston-based nonprofit affordable housing developer, The Community Builders. The project is designed as the first step in the future redevelopment of the 30-acre Creighton Court public housing community located across Nine Mile Road.
The new units were used, in part, to relocate Creighton Court residents, clearing the way for a large chunk of the public housing community to be bulldozed and replaced with new units. Demolition of a major portion of Creighton Court is expected this year.
Mayor Levar M. Stoney and Richmond City Council cleared the way by allocating $6.8 million in federal American Rescue Plan Act funds to pay for new streets, alleys and underground utilities in the Creighton Court redevelopment.