Cleveland-to-VUU pipeline flows once more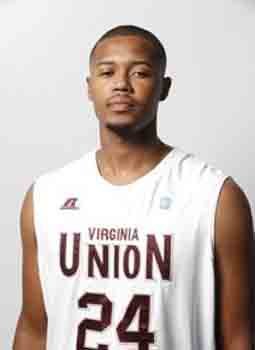 Th-thump. Th-thump.
Virginia Union University's famed "Cleveland Connection," long the lifeblood of the institution's basketball program, has regained a pulse.
Ronald Whaley is the latest Panther listing the northeast Ohio metropolis as home.
The bouncy, wide-shouldered, 6-foot-7, 215-pounder has been an early season beacon for first-year coach Tony Sheals.
Through three games (1-2 record), Whaley was averaging 15 points and six rebounds, while hitting 10 of 15 from the floor and 9 of 13 free throws.
"From Ronald, we're looking for energy, rebounding and someone to defend the post," said Sheals. "We really don't need a lot of scoring from him. We've got other scorers."
When longtime VUU fans hear "Cleveland," their faces glow. No fewer than four former Panthers from Cleveland have their honored maroon and steel jerseys hanging from Barco-Stevens Hall rafters.
Featured are:
• Charles Oakley (No. 34), Class of 1985.
• Jonathan Walker (No. 11), Class of 1990.
• Derrick Johnson (No. 00), Class of 1992.
• Ben Wallace (No. 32), Class of 1996.
Oakley, Walker and Johnson all came from Cleveland's John Hay High School, while Wallace came from Cuyahoga Community College.
And that's just for starters. Other standouts hailing from Cleveland include Donald Whissett, Lamont Echols, Sam Potter and Roosevelt Wallace.
From Shaw High School, Wallace starred two years for VUU before transferring to the University of Arkansas and helping the Razorbacks to the 1994 NCAA crown.
The pipeline from Cleveland to Richmond likely began in the 1950s with former VUU
basketball and football coach "Tricky" Tom Harris, who graduated from Wilberforce University in Ohio.
"Coach Harris knew a lot of people in Ohio, especially Cleveland," said Robert Moore, a former VUU football and basketball player who preceded Dave Robbins as VUU hoops coach.
"We always had athletes — basketball and football — from Cleveland. Jones Davis (from Cleveland), who played with me, was one of best football players Union ever had."
Davis scored 20 touchdowns for VUU in the early 1960s. Coach Robbins inherited one Cleveland standout, the high-flying Echols, when he succeeded coach Moore in 1978.
During Robbins' long run of success at the Lombardy Street university, the key Cleveland contact was the late Nathan Whitaker, athletic director at Shaw High School.
"He was extremely helpful in letting us know about some of the good athletes up that way," Robbins explained.
Oakley, the 1985 National Player of the Year, also proved valuable as an alumnus. It was Oakley who put Robbins on to Wallace, then a lightly regarded prospect. "Charles only recommended one player — Ben Wallace," recalled Robbins.
In recent years, VUU fans have seen less and less of what Cleveland has to offer. Whaley is a welcome addition to VUU's current roster, but Sheals warns the old connection is a bit frayed.
"We recruited Ronald because he played at one of the top junior colleges in the country," Sheals said of Monroe College in New Rochelle, N.Y.
"I've heard about Union's connection with Cleveland, but Ronald really wasn't part of that."
Whaley starred at Ginn Academy in the Collinwood
section of East Cleveland. He came to VUU after two years at Monroe, a perennial junior college power.
"I didn't know a lot about Union when I signed to come here," said Whaley. "But I've learned a lot more about all the Cleveland players since arriving."
Since becoming a Panther, Whaley has been taken under the wing of Derrick Johnson, the 6-foot-10 National Player of the Year in 1992. "We text back and forth," said Johnson, who attends many Panthers games.
"I'm looking out for Ronald just like others (from Cleveland) looked out for me when I got here," said Johnson.
If Whaley should get homesick, all he has to do is cast his eyes toward the Barco-Stevens rafters where sweet Cleveland reminders are on display.