Altria Theater lights up with new acoustics, amenities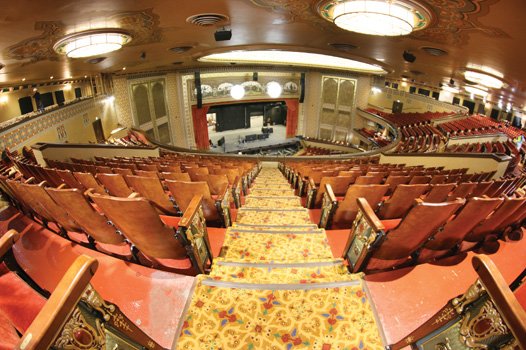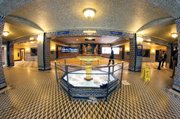 Lead guitarist Ethan Gruska dropped his voice and almost whispered into the microphone Sunday night to introduce The Belle Brigade's first song.
However, his amplified words came through loud and clear, even in the last row of the balcony three stories up and more than 100 feet away from where he sat on the Dominion Stage at the Altria Theater.
What a sound revelation for fans of the cheap seats. At last, it is possible to hear the words and the music without having to buy a pricey ticket at the city-owned venue.
Revamped acoustics — including a new sound system and sound-absorbing materials — are among the biggest changes in the grand venue once known as The Mosque and Richmond's Landmark Theater.
Since 2013, about $50 million has been poured into the building — the largest theater between New York and Atlanta, according to Jay Smith, theater spokesman.
The money has been spent on everything from improved lighting and seating to upgraded wiring and plumbing to restoring the basement ballroom into a grand space that can seat up to 800 people.
Other additions include new marquees at the Laurel Street and Main Street entrances, a new box office and far more restrooms. There are 14 restrooms in the building, with double the number of stalls for women, who long have had to wait in line during intermissions.
However, most of the building's interior look has been preserved, including the mosaic tile.
One big question mark is whether promises were kept to have 40 percent of the work undertaken by black-owned and minority businesses.
In response to a Free Press query, City Hall disclosed Wednesday afternoon that 22 mostly black-owned companies, largely from the Richmond area, served as subcontractors for the general contractor, Gilbane Christman, a joint venture of two construction companies based in Rhode Island and Michigan.
The statement did not offer specific figures on the contracts to minority-owned companies. "The percentage of work presently stands between 32 percent and 34 percent, but the total dollars paid are not final yet," Tammy Hawley, the mayor's press secretary, noted in the statement.
Still, this project goes beyond anything City Hall has ever undertaken to provide tender loving care to this grand theater.
That $50 million price tag was just for construction work, Mr. Smith said. Some work remains to be done, including installation of a new café on the ground floor. The restored ballroom's kitchen is still being installed and there are finishing touches being applied. Other costs, including design, engineering and legal fees, have boosted the total price to $63 million, of which taxpayers contributed $14 million.
This kind of theater, like a coliseum and convention center, is one of the must-have elements for a big city.
Mayor Dwight C. Jones, whose administration made the upgrades happen and who considers it important to the city's vitality, is delighted at the result. He said the outcome of the public-private investment means "this iconic theater will continue to be a place where Richmonders and visitors can enjoy world-class performances, concerts and speakers."