Mayor pushes private development of new Coliseum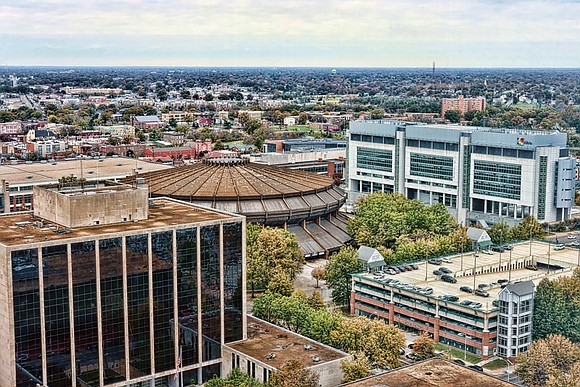 By Jeremy M. Lazarus
A pie-in-the-sky fantasy or a realistic prospect for overhauling the Coliseum area of Downtown?
That question remains to be answered in the wake of Mayor Levar M. Stoney's call for companies to provide plans for revitalizing the 10-block area from 5th to 10th streets between Marshall and Leigh streets.
With the development of the city's Boulevard property stalled and uncertainty surrounding financing to modernize city schools, the mayor is turning to this new area in a bid to get a major project started.
The centerpiece of the latest proposal: Development of a privately owned, 17,500-seat arena to replace the 13,500-seat city facility that is considered obsolete after 46 years.
Mayor Stoney said the Richmond Coliseum is leeching $1.5 million a year from the city budget. That would disappear, he said, if a private entity builds and operates a new facility that could cost at least $200 million.
His proposal also calls for companies to develop a new 400-room hotel near the Greater Richmond Convention Center; renovate the historic, but moldering Blues Armory at 6th and Marshall streets into an entertainment and restaurant venue; and build apartments or other high-rise residential quarters that would include some units considered affordable or that would carry reduced rents.
The plan was unveiled last Thursday and dubbed "North of Broad/Downtown Neighborhood Redevelopment Project."
Mayor Stoney said the city is seeking to generate proposals to revitalize underused property in the area while creating employment opportunities, adding housing and generating new entertainment possibilities without burdening taxpayers.
"The goals are bold," Mayor Stoney said during his announcement, but offer an opportunity to achieve "many of our strategic objectives," including improving infrastructure.
In an age where cities across the country are putting up at least half the cost of such coliseum projects or taking on immense debt, Mayor Stoney said Richmond is seeking to get this done without dipping into its coffers or taking on any obligations to repay any borrowing that might be required.

However, the city could end up with major costs if an accepted proposal requires use of the land where the John Marshall Courts Building and the Richmond Social Services Building now stand. Richmond would be on the hook to replace those buildings and find new space for operations still housed in the Public Safety Building, which also could be included in the project.
The proposal also indicates that the city is prepared to offer potential developers a rebate of all the new taxes such developments might generate, and sell or lease any of the public property it owns in the area.
Not surprisingly, components in the city's request resemble a plan outlined previously by a local group of investors that has spent two years studying the idea of replacing the Coliseum. That group includes Thomas F. "Tom" Farrell II, chairman, president and chief executive officer of Dominion Energy; Martin J. "Marty" Barrington, president and chief executive officer of cigarette giant Altria Group; and C.T. Hill, retired president of SunTrust Bank's Mid-Atlantic Region.