Mayor pushes private development of new Coliseum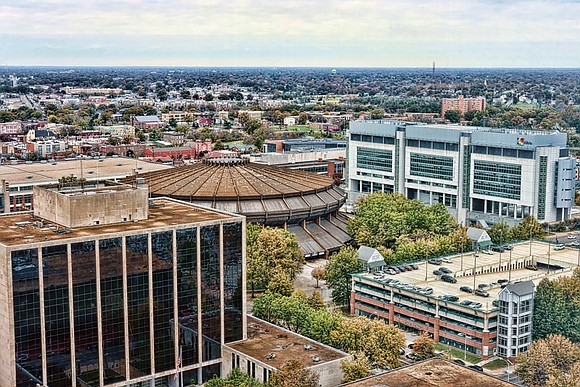 By Jeremy M. Lazarus
A pie-in-the-sky fantasy or a realistic prospect for overhauling the Coliseum area of Downtown?
That question remains to be answered in the wake of Mayor Levar M. Stoney's call for companies to provide plans for revitalizing the 10-block area from 5th to 10th streets between Marshall and Leigh streets.
With the development of the city's Boulevard property stalled and uncertainty surrounding financing to modernize city schools, the mayor is turning to this new area in a bid to get a major project started.
The centerpiece of the latest proposal: Development of a privately owned, 17,500-seat arena to replace the 13,500-seat city facility that is considered obsolete after 46 years.
Mayor Stoney said the Richmond Coliseum is leeching $1.5 million a year from the city budget. That would disappear, he said, if a private entity builds and operates a new facility that could cost at least $200 million.
His proposal also calls for companies to develop a new 400-room hotel near the Greater Richmond Convention Center; renovate the historic, but moldering Blues Armory at 6th and Marshall streets into an entertainment and restaurant venue; and build apartments or other high-rise residential quarters that would include some units considered affordable or that would carry reduced rents.
The plan was unveiled last Thursday and dubbed "North of Broad/Downtown Neighborhood Redevelopment Project."
Mayor Stoney said the city is seeking to generate proposals to revitalize underused property in the area while creating employment opportunities, adding housing and generating new entertainment possibilities without burdening taxpayers.
"The goals are bold," Mayor Stoney said during his announcement, but offer an opportunity to achieve "many of our strategic objectives," including improving infrastructure.
In an age where cities across the country are putting up at least half the cost of such coliseum projects or taking on immense debt, Mayor Stoney said Richmond is seeking to get this done without dipping into its coffers or taking on any obligations to repay any borrowing that might be required.

However, the city could end up with major costs if an accepted proposal requires use of the land where the John Marshall Courts Building and the Richmond Social Services Building now stand. Richmond would be on the hook to replace those buildings and find new space for operations still housed in the Public Safety Building, which also could be included in the project.
The proposal also indicates that the city is prepared to offer potential developers a rebate of all the new taxes such developments might generate, and sell or lease any of the public property it owns in the area.
Not surprisingly, components in the city's request resemble a plan outlined previously by a local group of investors that has spent two years studying the idea of replacing the Coliseum. That group includes Thomas F. "Tom" Farrell II, chairman, president and chief executive officer of Dominion Energy; Martin J. "Marty" Barrington, president and chief executive officer of cigarette giant Altria Group; and C.T. Hill, retired president of SunTrust Bank's Mid-Atlantic Region.
While the mayor said that the city's proposal is independent of that group, most see the city's request — including its requirement that responses be provided within 90 days — as a clear indication that the Richmond group is ready to move forward.
Lee Downey, the city's chief development officer, said he has been approached repeatedly by major developers expressing interest in such a project. "This is their chance," he said.
However, he acknowledged that he does not expect a mad rush. He said he would be delighted to get two or three good proposals by the Feb. 9 deadline.
Still uncertain, though, is how anyone would pay for a facility in which the city does not provide a direct subsidy.
According to a Federal Reserve study, localities routinely provide 57 percent of the cost of new arenas, most of which do not generate enough income to repay the debt incurred or cover their operating costs.
A new 17,500-seat coliseum would restore Richmond's status as having the largest arena in the state. And that cost would be relatively cheap compared with professional basketball and hockey arenas that now cost $400 million to $500 million.
However, unless someone donates big money to the project, the private owner would be left with a big debt to pay off. The cost of financing $200 million over 30 years would require an annual payment of $11 million to $22 million a year, depending on the interest rate.
The tax rebate Richmond is suggesting it would provide would not cover that kind of annual cost. For example, at the current tax rate on real estate, a $200 million building would generate $2.4 million a year in tax revenue.
Several developers the Free Press consulted and who spoke on condition of anonymity could not fathom how a private coliseum could generate enough income to cover debt, let alone generate a return on the investment.
They also pointed out that an entity would need to take a long-term lease to ensure that the building would have plenty of income-generating events to cover operating expenses.
They pointed to the 14,600-seat John Paul Jones Arena in Charlottesville, noting that its opening in 2006 was possible because it was undertaken by the University of Virginia, which was seeking more seats for its basketball program. That arena cost more than $140 million and is partially supported with U.Va. student activities fees.
However, Richmond's biggest school, Virginia Commonwealth University, does not appear to have an interest in leasing a bigger space for its basketball games.
In response to a query about speculation that VCU would agree to move its games to a new coliseum, university spokeswoman Pam Lepley responded, "We love playing at the Siegel Center, and it will be our home for the foreseeable future."
Evidence of the difficulties that a privately developed coliseum faces can be seen in Virginia Beach.
That city has entertained two separate proposals, and even indicated that it would provide a subsidy totaling $255 million to make it happen. But both times, the private groups involved did not move forward because of problems obtaining financing.