3 area churches up for sale, auction block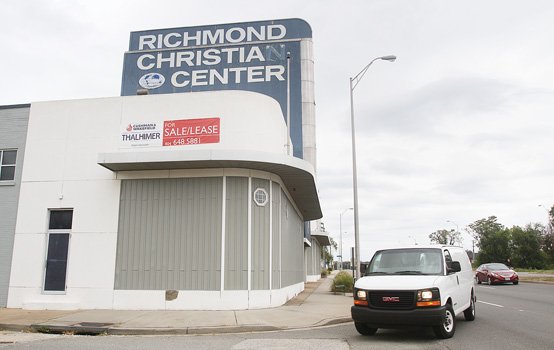 The Richmond Christian Center's 5-acre property on South Side is going on the auction block.
The prominent church at 214 Cowardin Ave. is one of several sanctuaries that are on the market, including the former home of Second Baptist Church of South Richmond a few blocks away and Sharon Baptist Church in Jackson Ward.
Richmond-based Motley's Auction is handling the sale of the RCC, a former car dealership that has been the church's home for more than 25 years. Along with the main building, the property includes adjacent parking areas and a gym.

The auction company plans to hold the auction via computer. Bids will be accepted beginning Thursday, Nov. 13; the auction will close Thursday, Nov. 20. Those who want to bid in person can do so at the property after 2:30 p.m. Nov. 20, according to the auction company's website.
The website does not list a minimum bid.
The sale is a major comedown for the church that Stephen A. Parson, 65, founded 31 years ago in his living room with his family and a few supporters and has led ever since.
The church, which later ballooned to several thousand members, has been heavily involved in community improvement.
With RCC's support, members launched a now-defunct employment center that helped hundreds of people find jobs during its 10 years in operation. The church also helped launch the South Side Community Development and Housing Corp., which, among other efforts, developed new homes near the sanctuary. The church also opened an affiliate in Brazil.
But times change, and membership has fallen steadily during the past 10 years. The church filed for bankruptcy a year ago after a lender sought to foreclose. The auction is a culmination of the lender's efforts to gain repayment of the more than $2 million that is still outstanding on the debt.
Separately, Second Baptist, which relocated to Broad Rock Road a few years ago, is seeking a buyer for its former home at 105 E. Pilkington St. Motley's also is serving as the sales agent on the property, which is listed for $400,000.
Meanwhile, Sharon Baptist's steeple-topped home at 22 E. Leigh St. remains for sale, according to a commercial property sales firm, Cushman & Wakefield/Thalhimer, though the pastor and members are keeping mum.
The historic property has been available for more than a year. Sharon Baptist, founded in 1888, built the church at the corner of 1st and Leigh streets in 1890 and has occupied it ever since. Three adjacent parcels are included in the offering. There is no minimum bid on the online listing.
The pastor, the Rev. Paul Allen Coles, and members have issued a collective "no comment" concerning the church's future at the current site.